Class Act Tuxedo & Bridal

We specialize in the rental and sales of quality tuxedos and suits.
We offer assistance with the selection of your wedding attire including accessories to coordinate with your wedding party colors.
Everything you need to look great for your special occasion is readily available. Inventory is on hand and alterations are done onsite.We offer same day service on all sales and rentals and ship nationally. Great customer service and affordable prices.
We provide a Measurement program for those out of the area.
CALL TODAY AND ASK ABOUT OUR GROOM SPECIAL (COMPLIMENTARY TUXEDO RENTAL)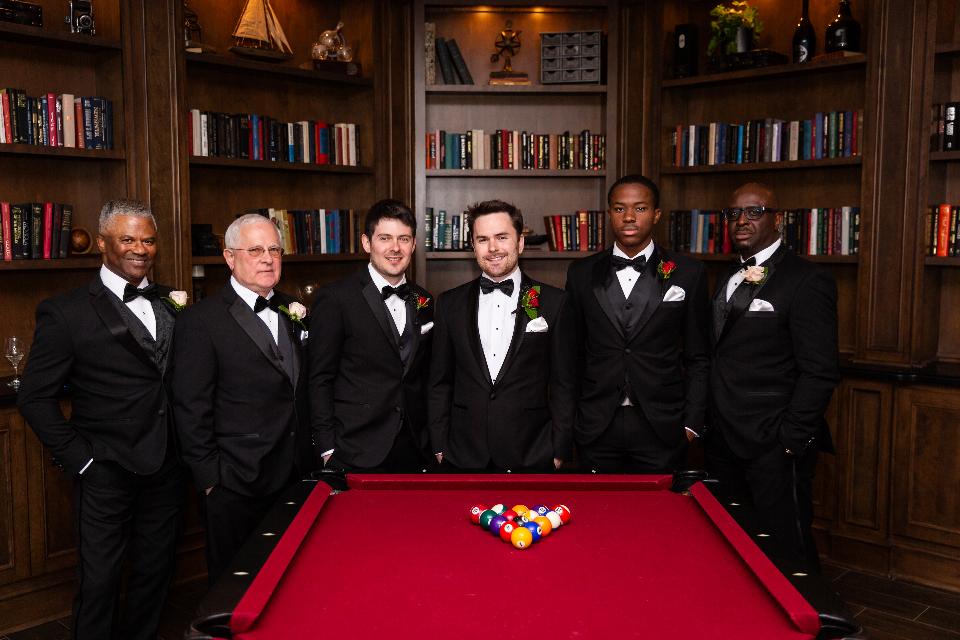 The Groom and his wedding party 2018':
Pictured left to right - Bo W., Barry S., Kieran S., Jonathan S. (the Groom), Elijah R., and James R.
Thanks for the cool photo! Congrats and best wishes!
★★★★★
Google Review from James R. -
Shae and Sal's customer service was, by far, the best I've had in recent years of any business in any industry. They were absolutely phenomenal! My daughter's wedding was 2 days ago, Nov 12th. Since her husband and his family lives in the UK several tuxedos had to be ordered by email using only their measurements. The fittings were done upon their arrival. The entire process was absolutely flawless. Each tuxedo was modern and tailored to to each person's exact fit. Class Act Tuxedo will be my tuxedo retailer for life!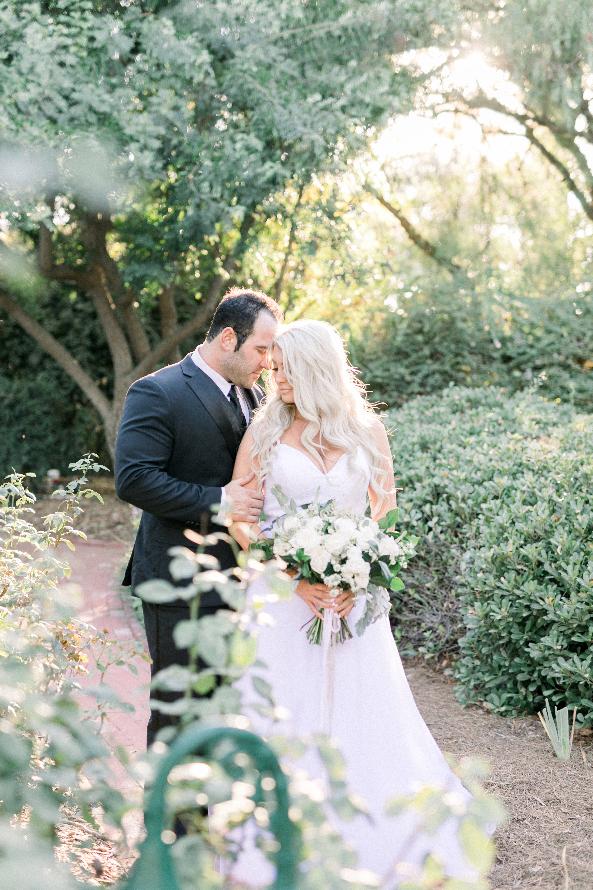 Matt and Sarah Scott, Oct 23, 2018 (Photographer Carrie McGuire)
Congratulations and Best Wishes!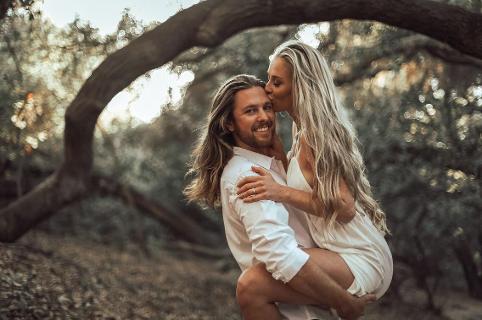 Jonny and Tamzen's engagement photo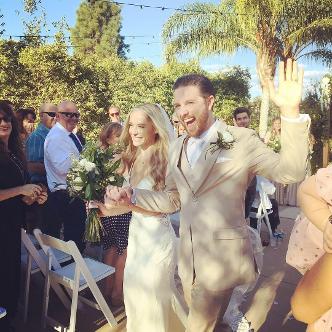 Jonny and Tamzen's wedding photo Oct. 2018
Congrats and Best Wishes!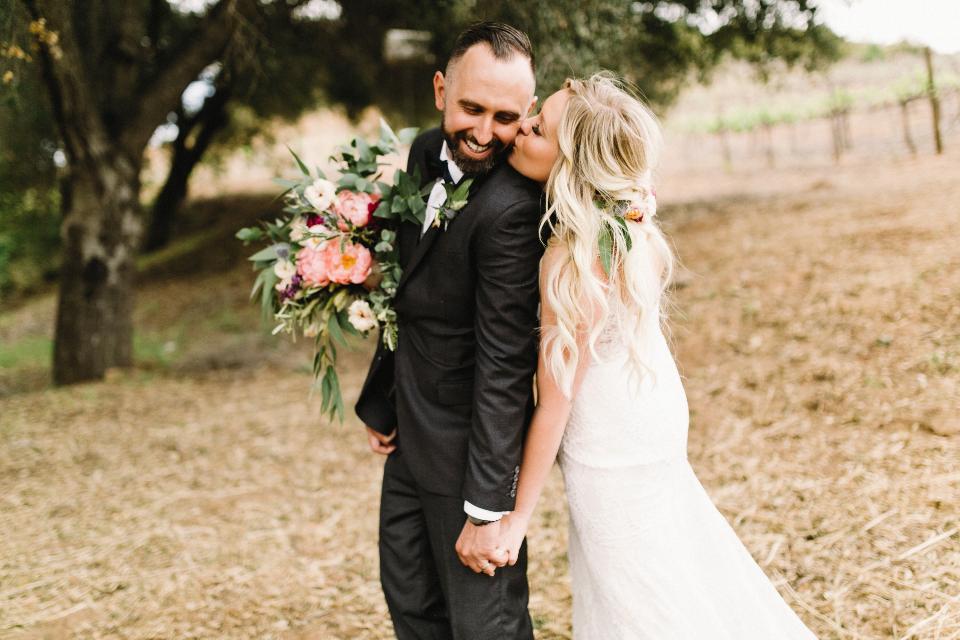 Jordan and Briana D. 4/21/2018 Congratulations and Best Wishes!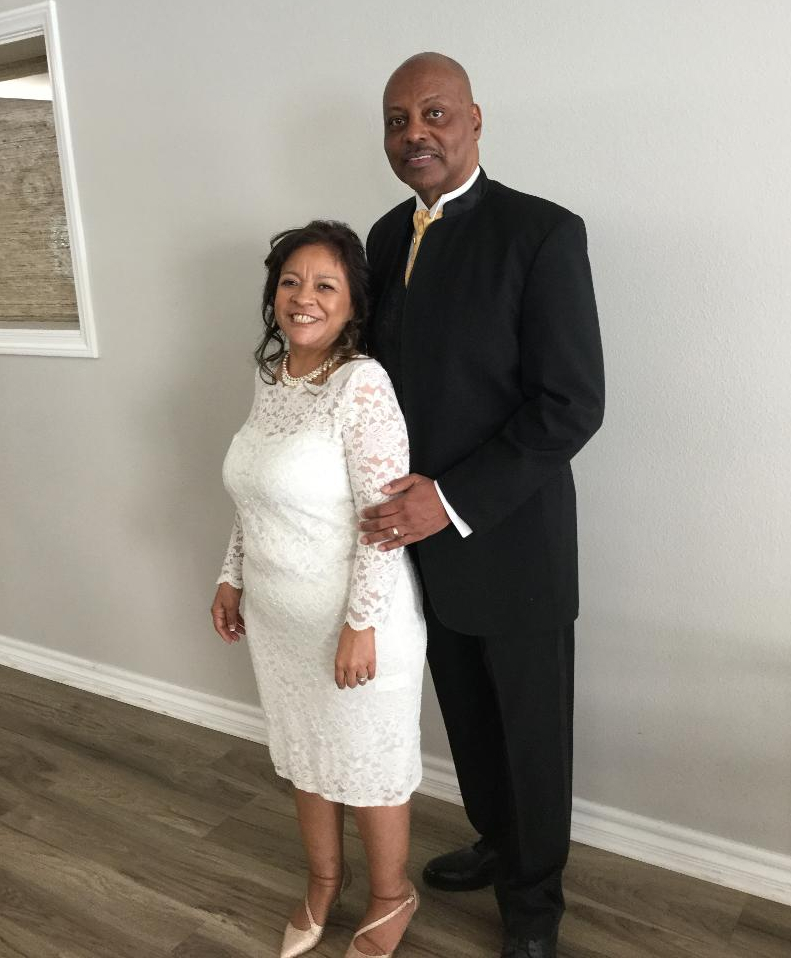 Donald and Alma T. 11/10/2018 Congratulations and Best Wishes!
Message from Don and Alma via e-mail -
Alma and I were looking for things for our wedding while walking in the shopping area and saw a beautiful display of tuxedos. I said "this place has a sharp display and I want that Mirage tuxedo."
My call to Sal was very pleasant and he gave me a fantastic deal. Two weeks later he remembered me and the deal for the rental. I received an email from Shae and a call to set up my appointment. Little did I know that she and Sal are a husband and wife team.
They are so friendly, very professional and completed my fitting in a few minutes. She made me feel like family and when I left it was the best deal ever for a tux rental. I will recommend this business to all of my friends. Thank you Sal and Shae for blessing me with the hook up for my November 10, 2018 wedding. God's blessings upon your life. Donald and Alma Angelina Turner.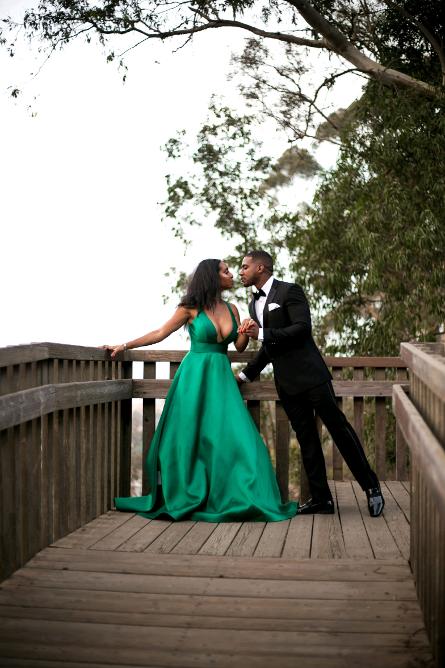 Allen and Kristian M. 2018 Congratulations and Best Wishes!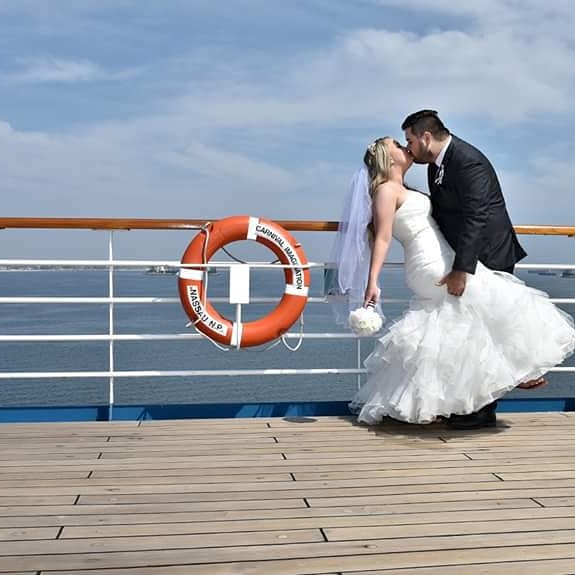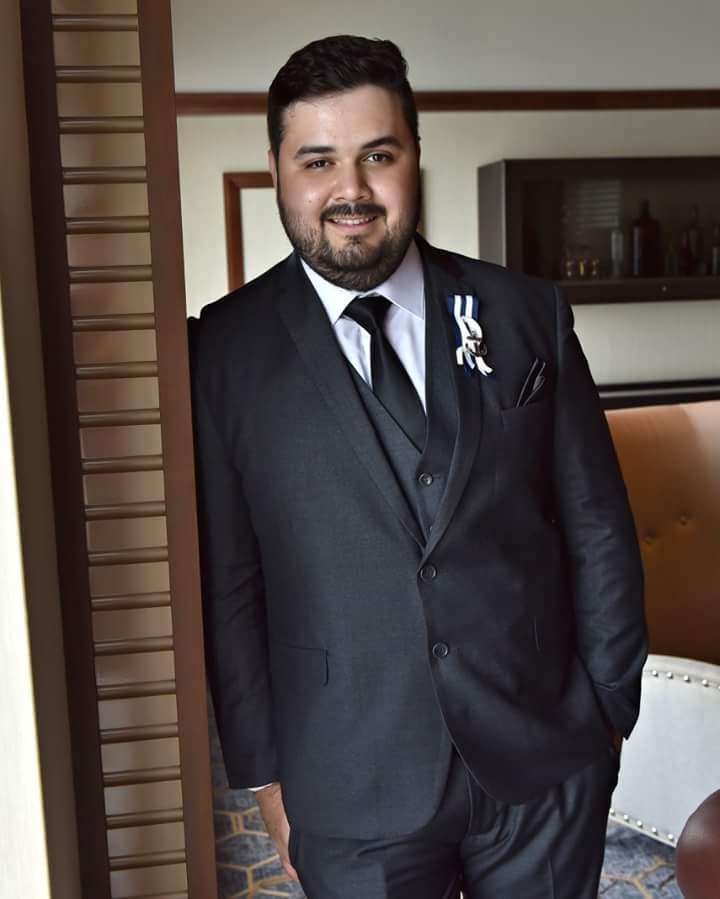 David and Melissa T. 2018 Congratulations & Best wishes!
★★★★★
Melissa T., 4/12/2018 (5 Stars Google)
Shae and Sal provide the most amazing customer service. They remember your name and are genuinely interested in your life. We recently got suits from them for our wedding and the experience was so easy. I would definitely recommend them to anyone looking to rent or buy because their suits are top quality and their customer service was even better!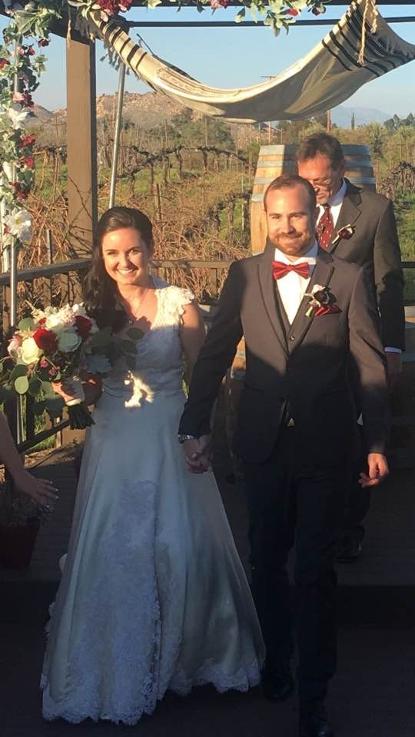 Aaron and Ashley C. 2018 Congratulations & Best wishes!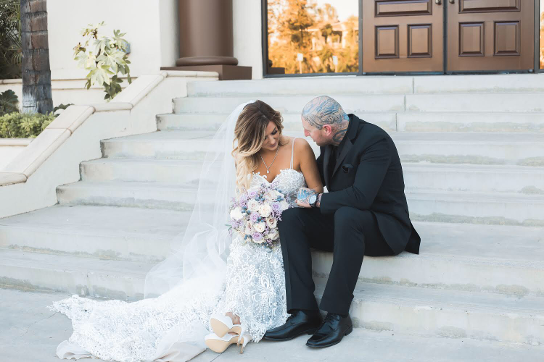 Chad and Cayti L. 2017' Congratulations & Best wishes!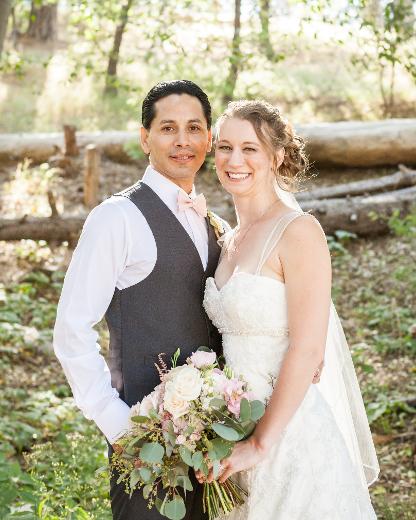 Jose and Alyssa C. 2017' Congratulations and Best wishes!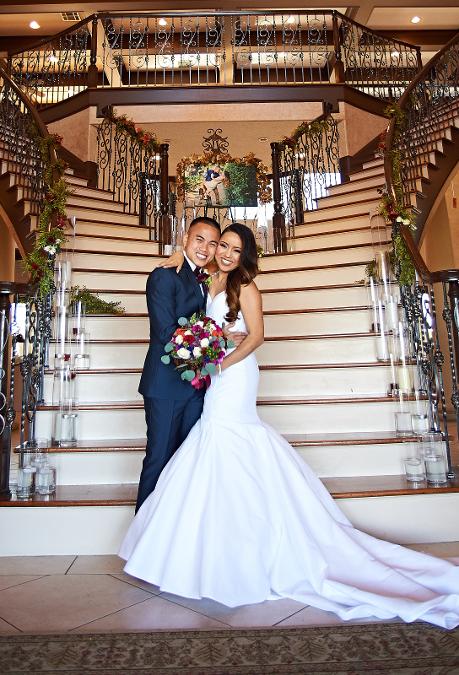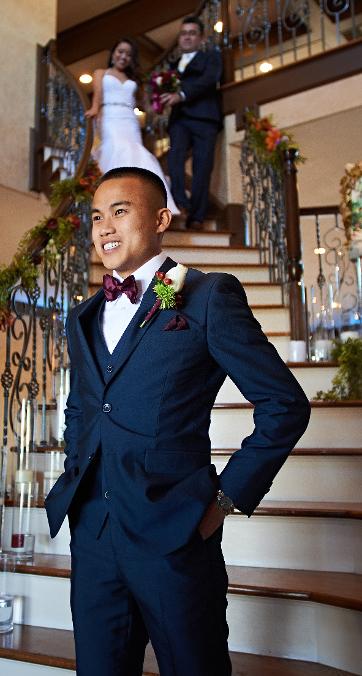 Vu and Estefania P. 2016 - Congratulations!! Vu and Estefania came to us with a particular suit look, fit and color in mind for their Special Day. Having a slim athletic build, our in house tailor (Sal) was able to customize Vu's suit to detail. Vu is wearing a slim fit - tailored three piece Middle Blue Suit, slim fit white shirt, and burgundy accessories. Please check out their video -
https://vimeo.com/195943383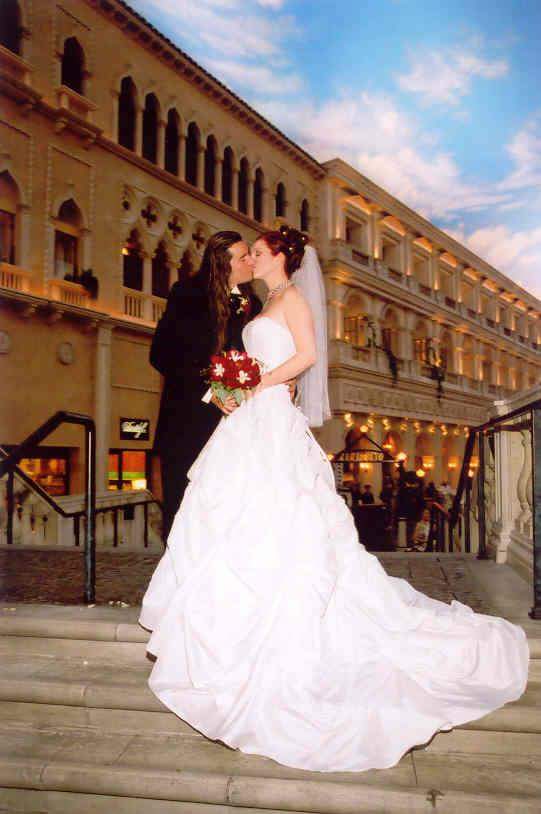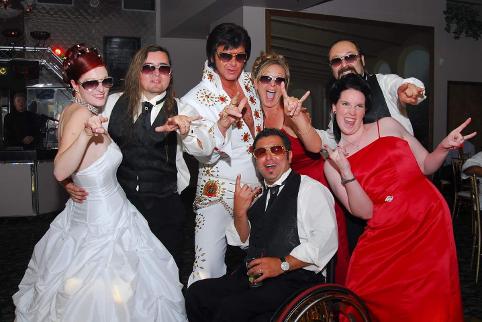 Carlos and Sietske M. June 6, 2006. We had the pleasure of suiting up Carlos and his wedding party 11 years ago. They were married at the Venetian Hotel in Las Vegas on Ponte Brdige. Thanks for the photos and we wish you many more years of martial bliss. Best wishes!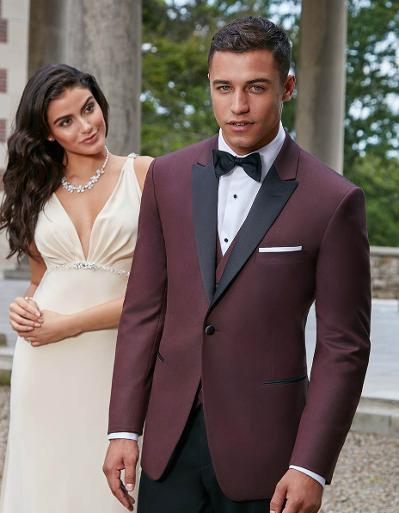 Burgundy and Black peak lapel tuxedo jacket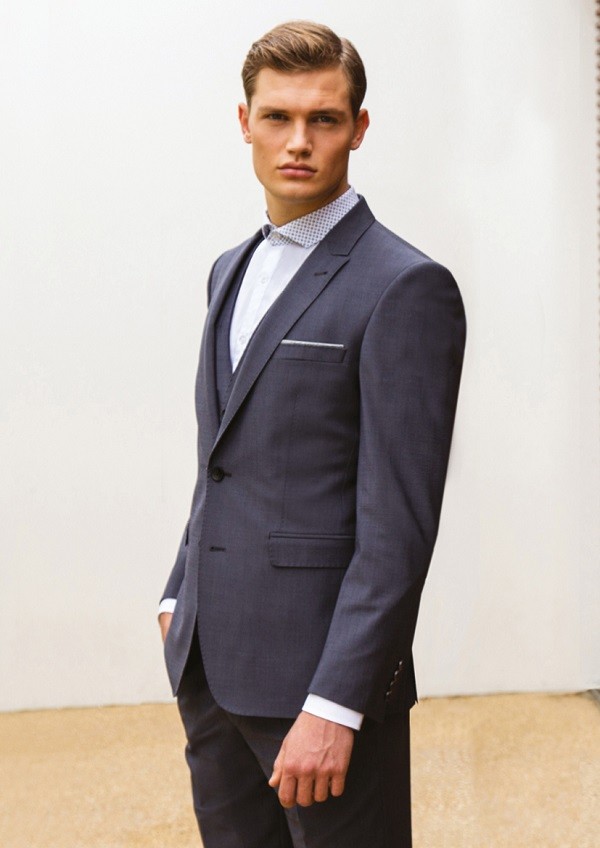 Classic Blue peak lapel Suit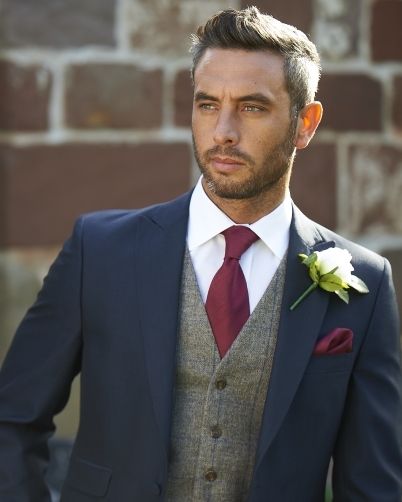 Make a statement- The latest trend in groom attire is stepping away from uniformity and mixing it up with colors, patterns and textures. As pictured, the groom is wearing a blue peak lapel jacket, contrasting tweed vest, crisp white shirt, burgundy tie and matching pocket square. This look has a classic and fashion forward appeal.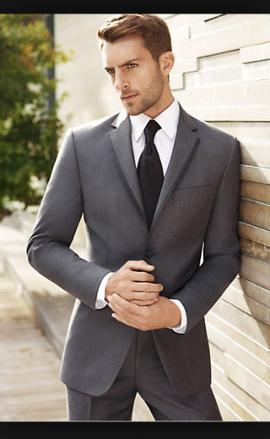 Charcoal grey suit or tuxedo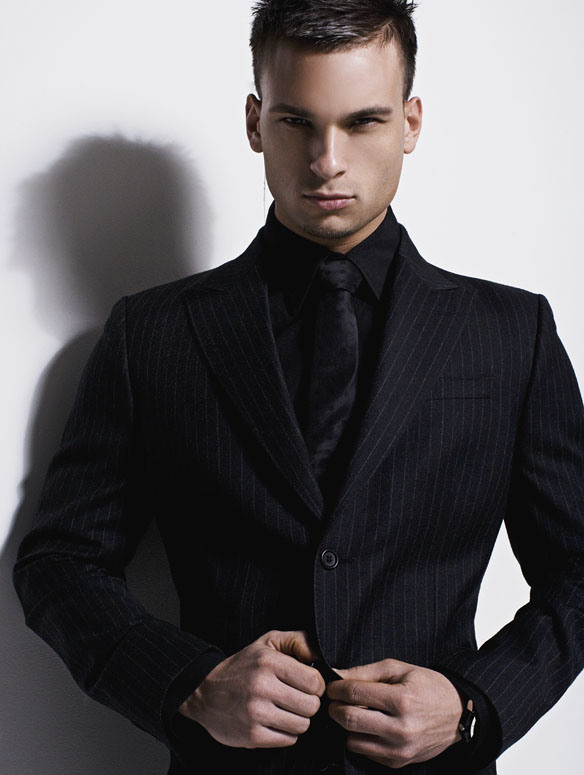 Pinstripe peak lapel suit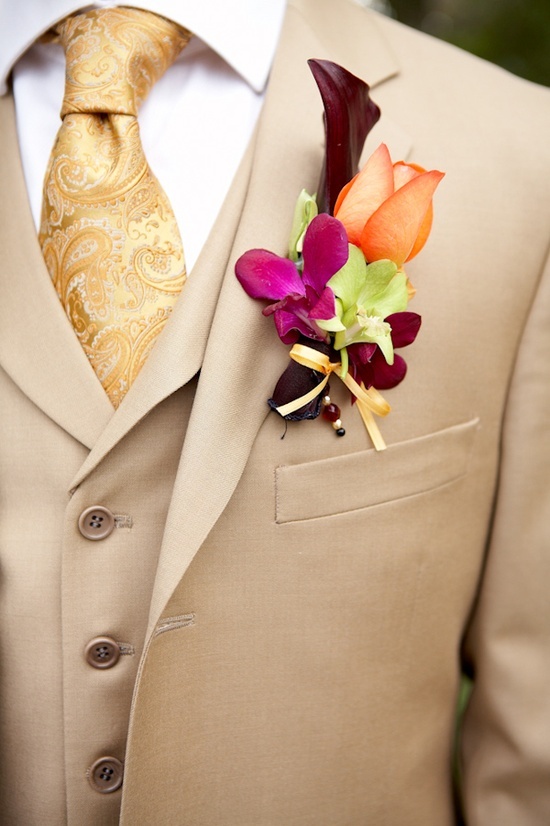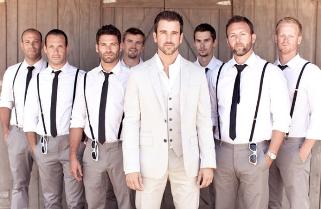 "An idea" - Groom in jacket and groomsmen in suspenders (suspenders available in a variety of colors)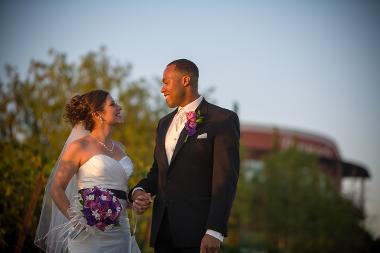 Spencer B. and Marie W. Spencer is wearing a 2 button notch lapel Nuvo Tuxedo. Congratulations!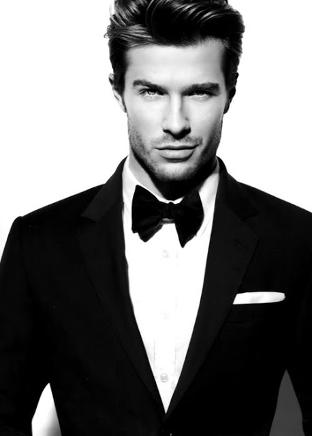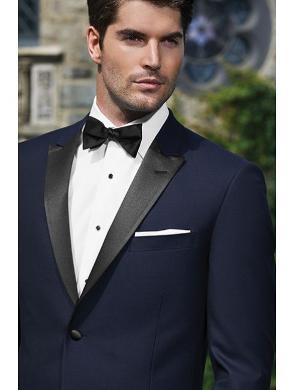 Navy Tuxedo with black peak lapel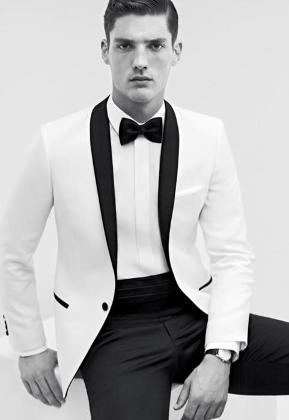 White and black shawl lapel tuxedo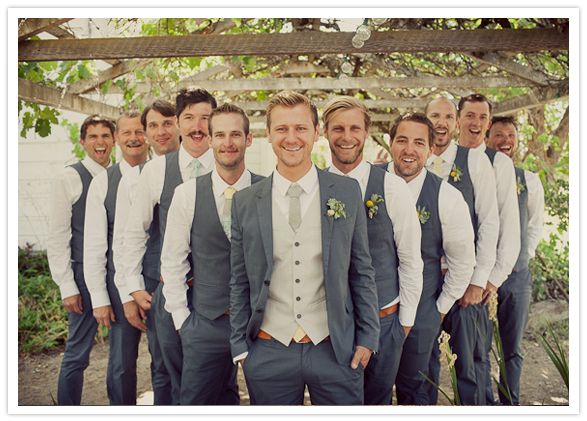 "An Idea"- Groom in jacket and groomsmen in vest.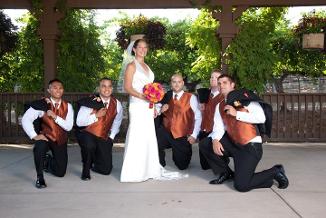 "I was planning my wedding from across the country and they were so incredibly helpful and friendly! I couldn't find my color for the guys vests anywhere, but Shae special ordered my color. I was a little nervous because I heard one bad review from someone...but then I found out that they complained about things fitting when they did not go in for a final fitting. My dad lost a ton of weight for the wedding and they were ready for him just days before! The customer service alone makes them a cut above the rest....but when Shae told me with absolute certainty that she would take care of this AND I would love it....I knew I called the right place. They did not let me down! No shoes fell apart, no hems undone, no pants falling off. The prices are great and the service is even better! Thanks you!"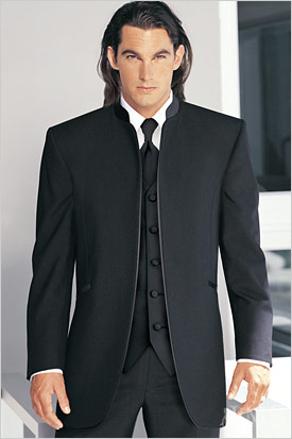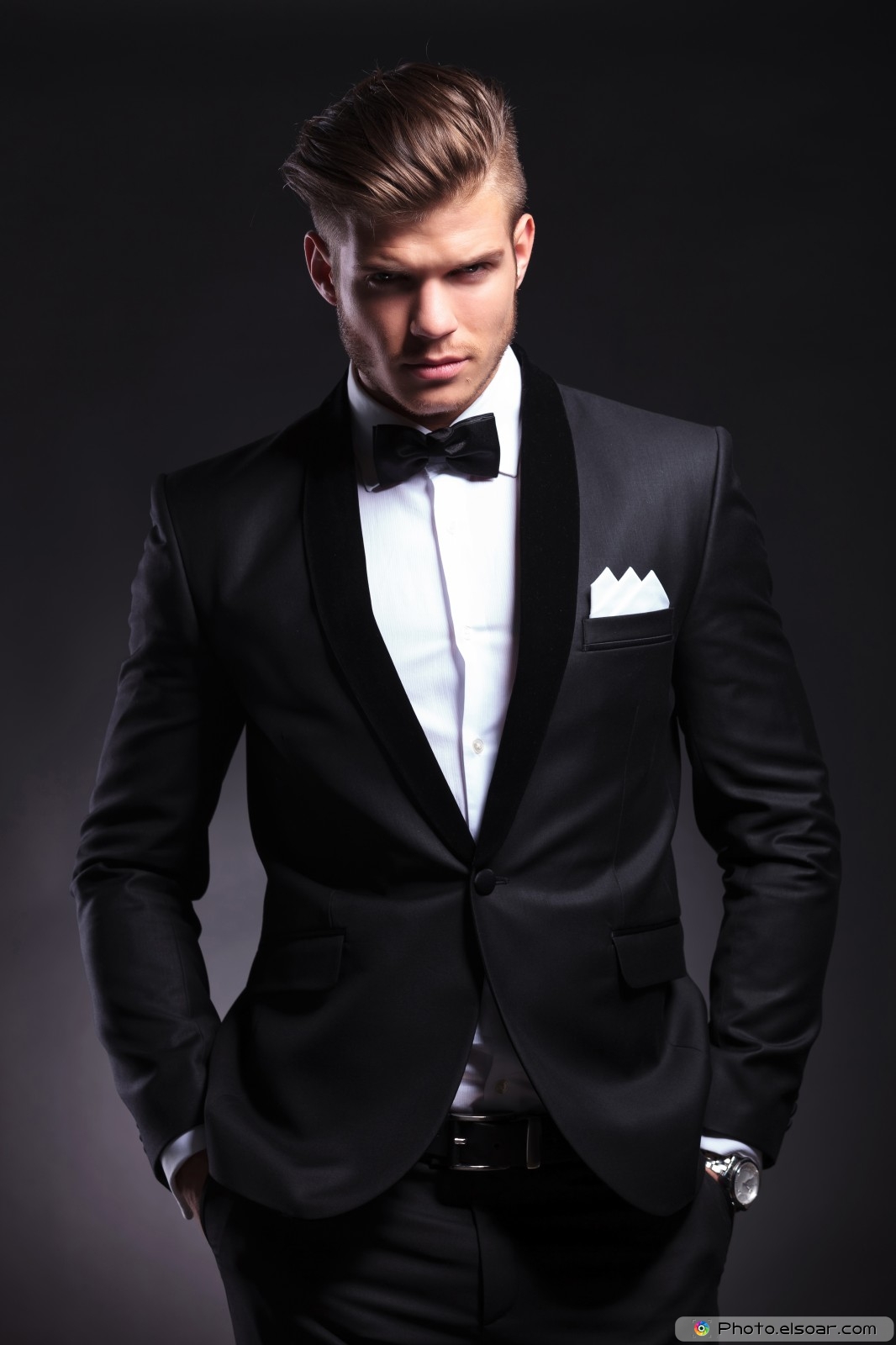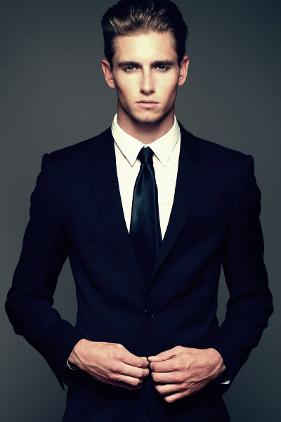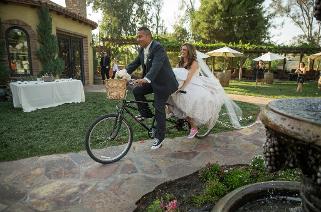 Juan and Amy married on July 4th 2013. The two road into their reception on their tandem bicycle! Juan is wearing a charcoal 2 button notch lapel suit.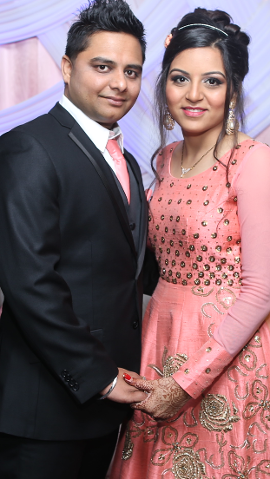 Anuj and Pooja P. 2016. Anuj is wearing a black sharkskin tuxedo with trim. Congratulations!