CLASS ACT TUXEDO - WEDDINGS
We specialize in the rental /sales of quality tuxedos and suits.
We offer assistance with the selection of your wedding attire including accessories to coordinate with your wedding party colors.

Everything you need to look great

for your special occasion is readily available. Class Act Tuxedo has the largest on hand inventory in the area and alterations are done onsite.We offer same day service on all sales and rentals and ship nationally. Great customer service and affordable prices.

We provide a Measurement program for those out of the area.
CALL TODAY AND ASK ABOUT OUR GROOM SPECIAL - (951) 296-5885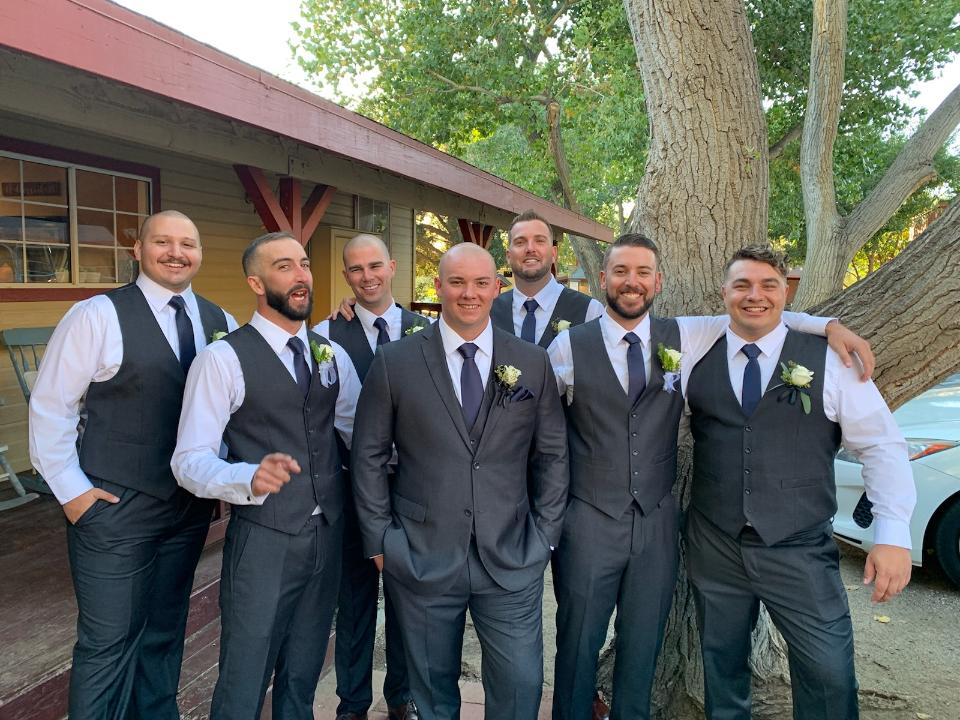 Dylan F., Nov. 2020 pictured with groomsmen. Left to right: Rigo, Eric, Matt, Dylan F. (Center), Michael, Travis and Andrew
Congrats and Best wishes!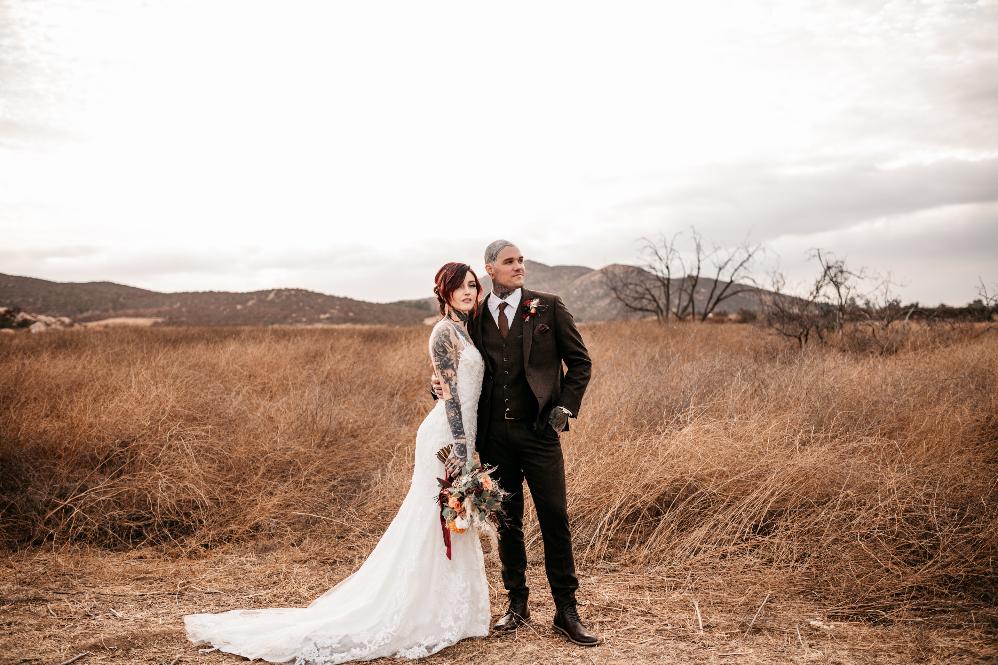 Chris and Taylor P. Oct 2020
Congrats and Best wishes!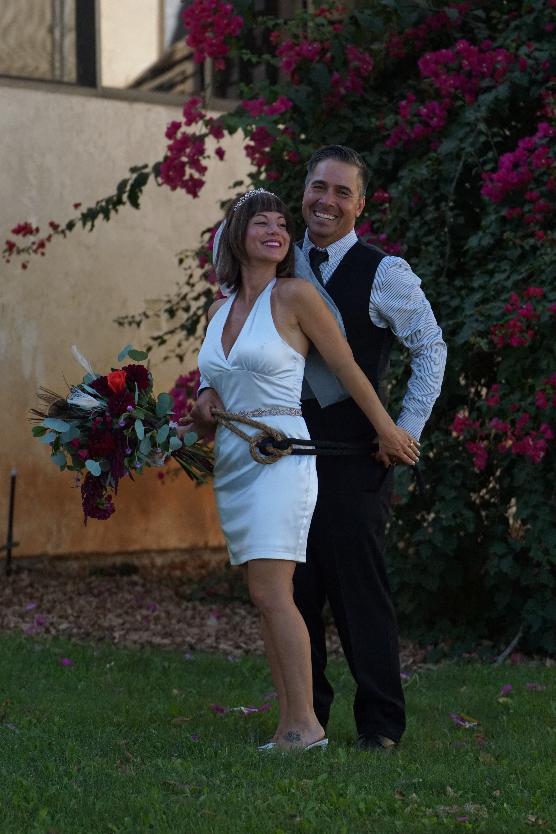 Josh and Nicole H. October 2020
Congrats and Best wishes!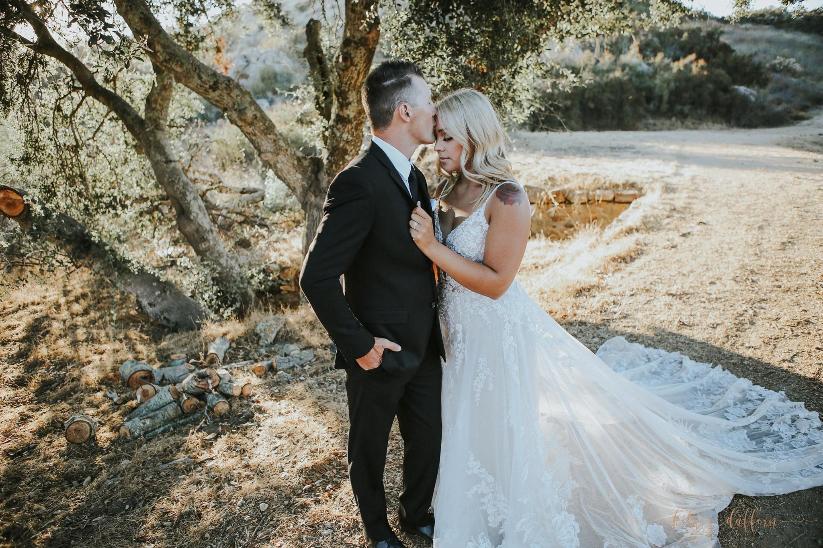 Cody and Tanya Y. 5th Year Anniversary, August 2020
Congrats and wishing you two many more years of happiness!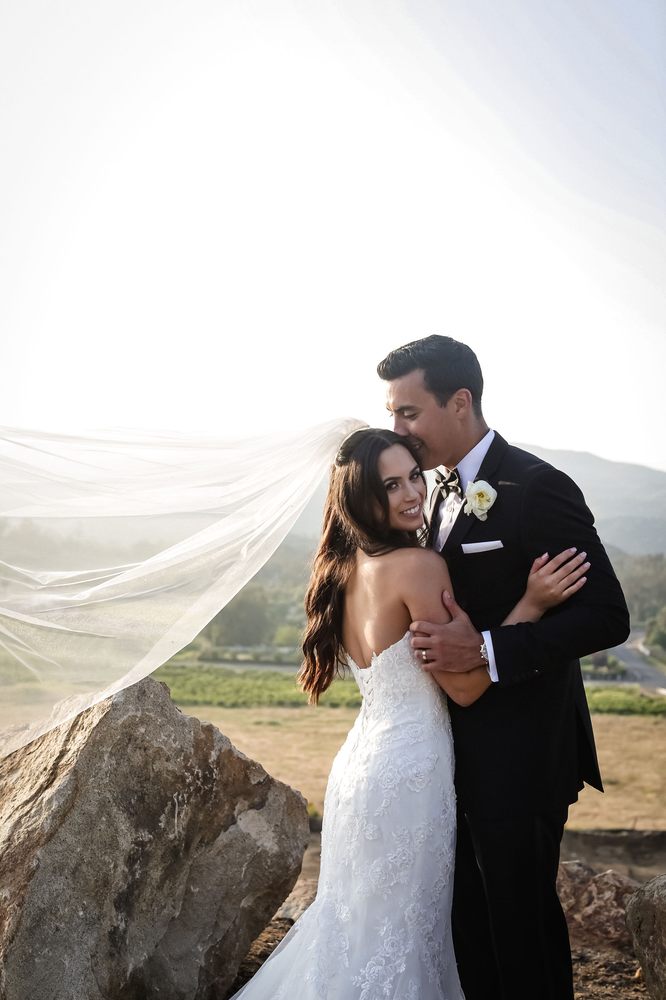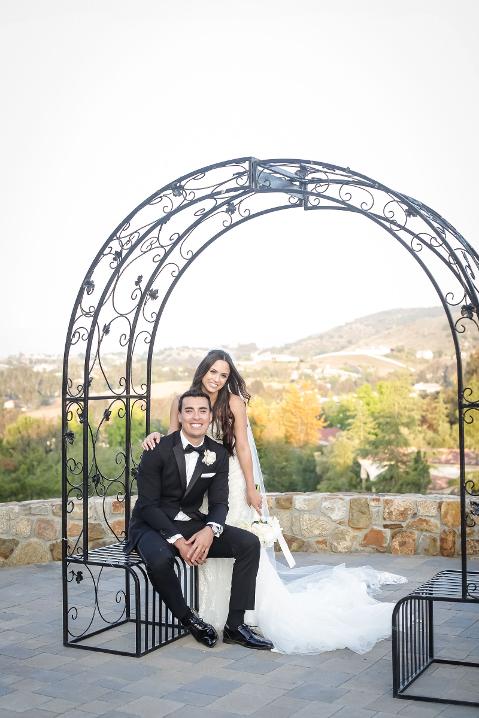 John and Dakota G. June 2019
Congrats and Best wishes!
John G., 6/17/2019 (Google and Yelp 5 Stars)
Rarely write reviews but Shae & Sal at Class Act Tuxedo & Bridal are well worth it! From the first moment you meet them they treat you like family (and will talk to you like it too!) I love how Shae keeps it real throughout the whole process, don't take offense to it (all love).
I unfortunately waited until the last couple of months to get all my groomsmen and myself ready for the big day but Shae & Sal came through in the clutch. Very flexible and affordable prices.

Thank you Shae & Sal for everything! You guys really helped me!
110% recommend for any groom looking for a spot.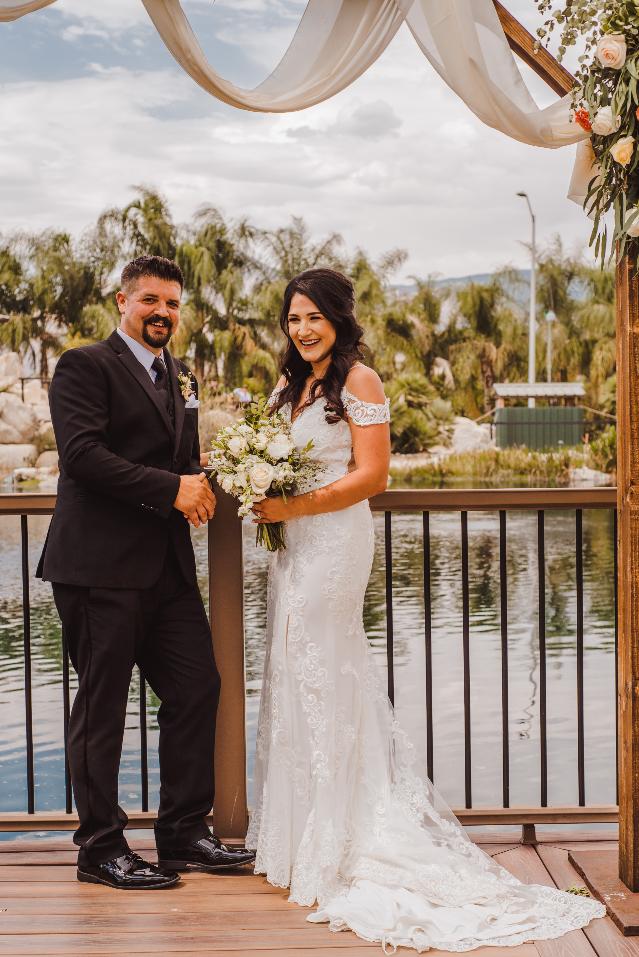 Luke and Karina R. August 2020
Congrats and Best wishes!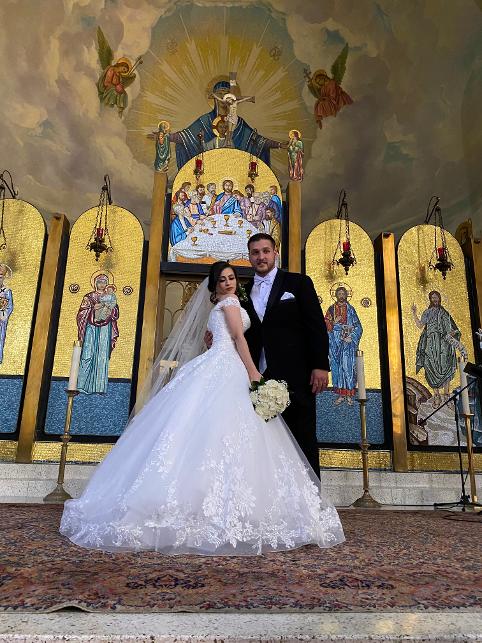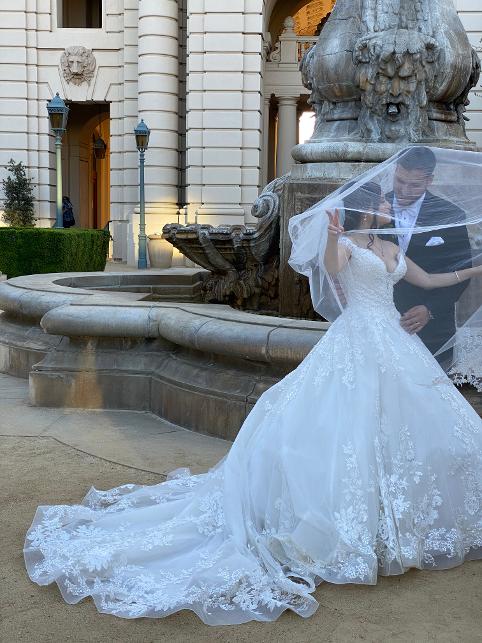 Edgardo and Mirna R. July 2020
Congrats and Best wishes!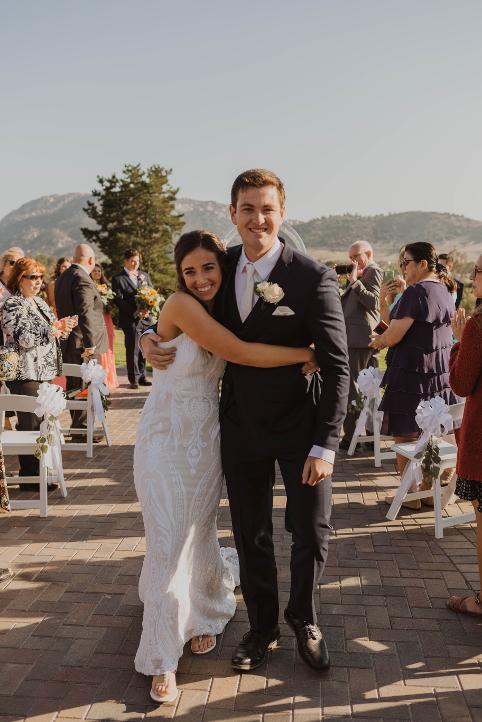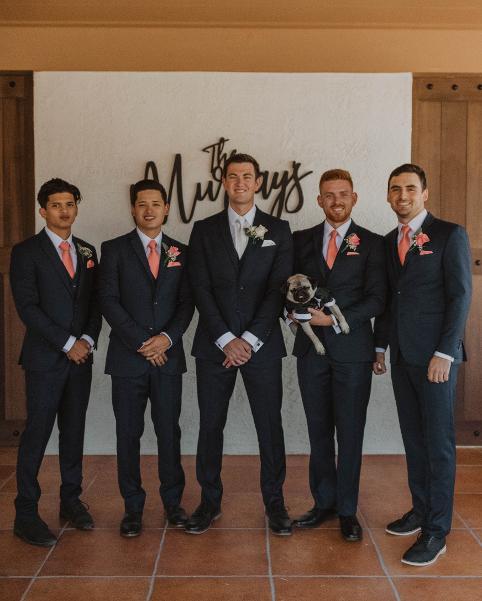 Michael and Alayna M. June 2020
Congrats and Best wishes!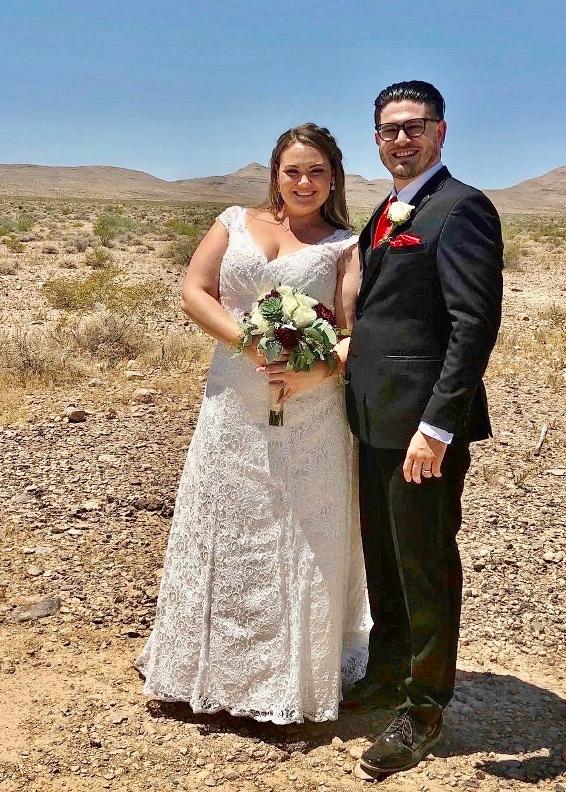 Sergio and Lauren C., July 2020
Congrats and Best wishes!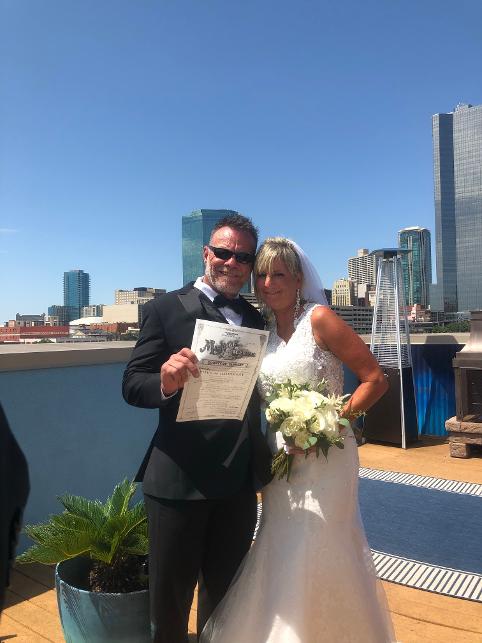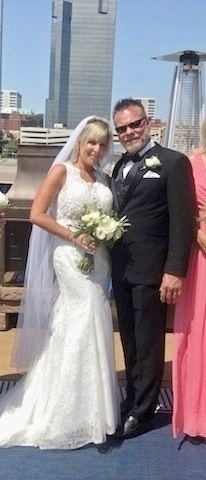 Bobby and Stephanie C., June 2020
Congrats and Best wishes!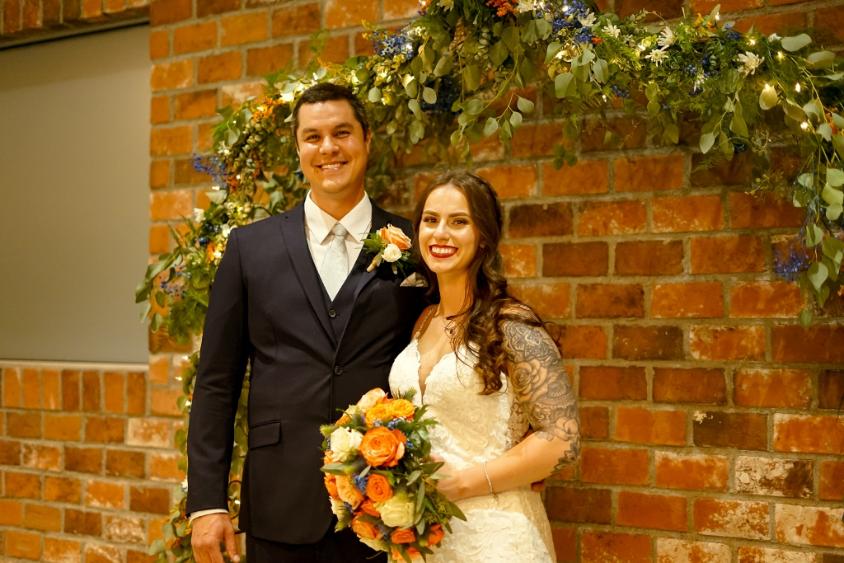 Chris and Brittany H. January 2020
Congrats and Best wishes!
Chris H., 1/21/2020, (5 Stars Yelp)
I rented my prom tuxedo from Shae and Sal over 13 years ago and they were my first choice to go to when I got married this year. I currently live and got married in Bakersfield and I never thought twice about going anywhere else. Shae and Sal are two of the most genuine people you will ever meet who care immensely about everyone that visits them. They want you to look good, feel good, and enjoy the process along the way. They were more than happy to accommodate me and the fact that I was coming from a few hours away so my availability was very specific and limited since I only head down to Temecula a few times a year to visit family. I simply can't say enough good things about them as people and about the professionalism of their services. I sincerely hope anyone looking for a suit, tux, or any related services go see them. You will be a lifelong customer.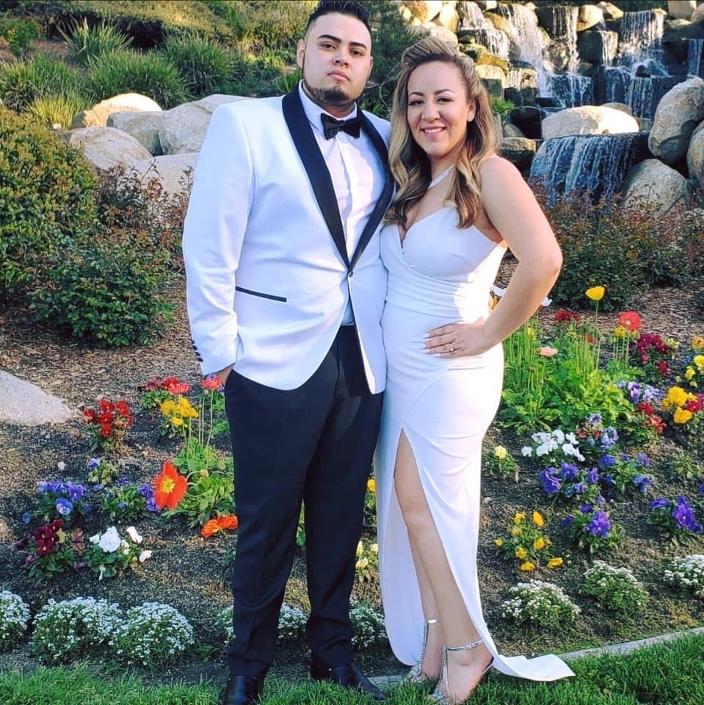 Jesus and Mishelle P. March 2020
Congrats and Best wishes!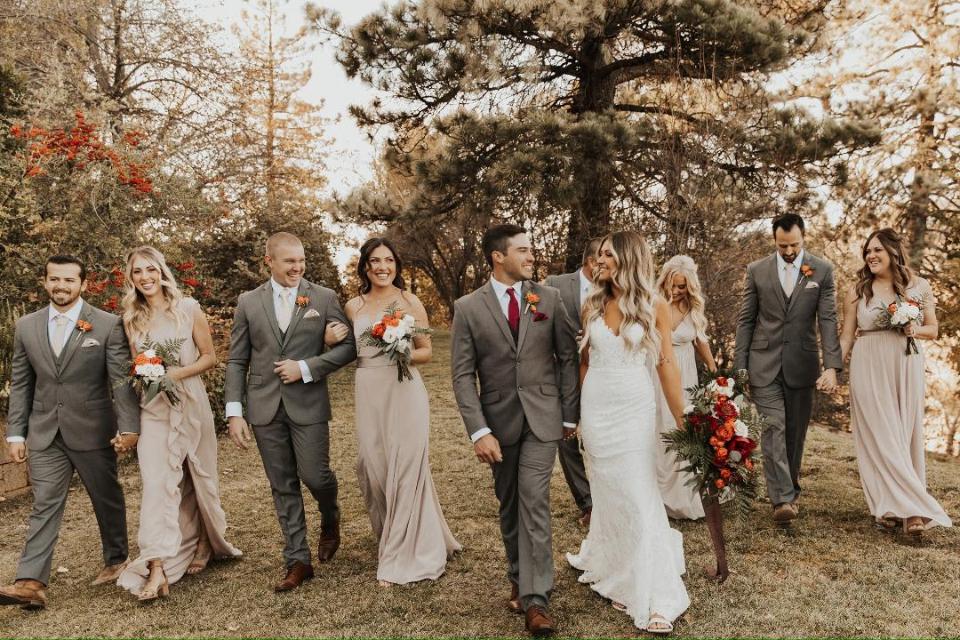 Jordan and Hannah C., Nov. 2019
Congrats and Best wishes!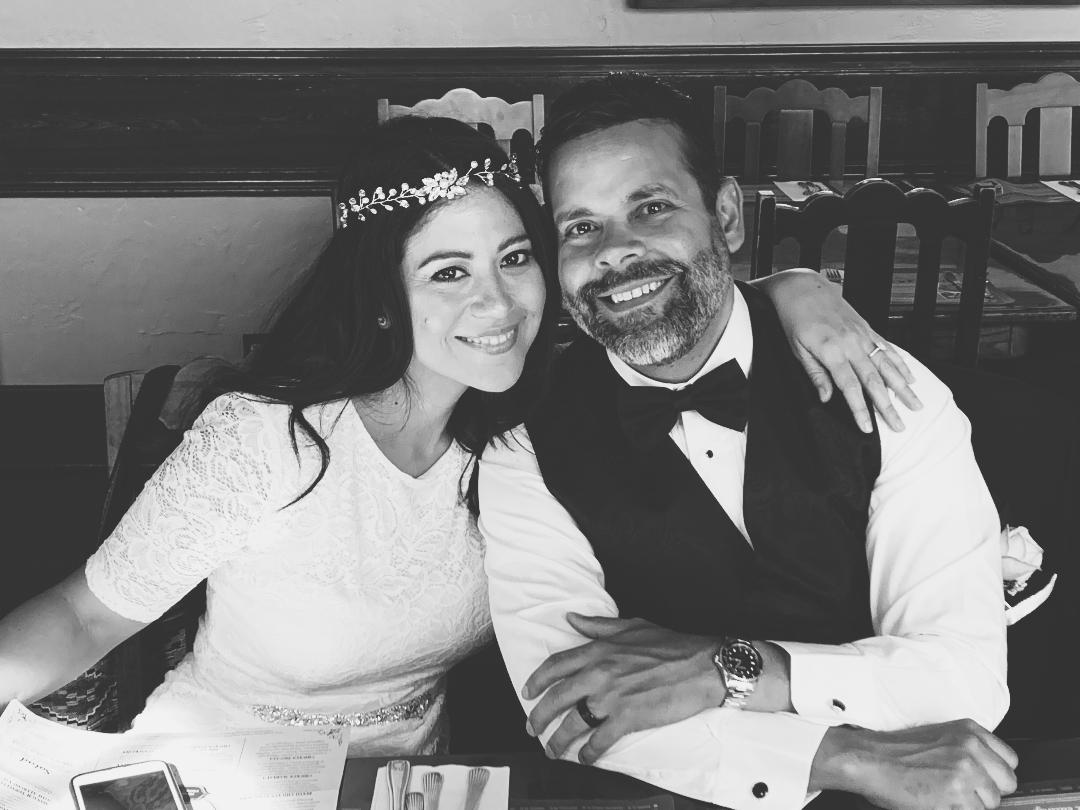 Gersom and Rachel O., Nov. 2019
Congrats and Best wishes!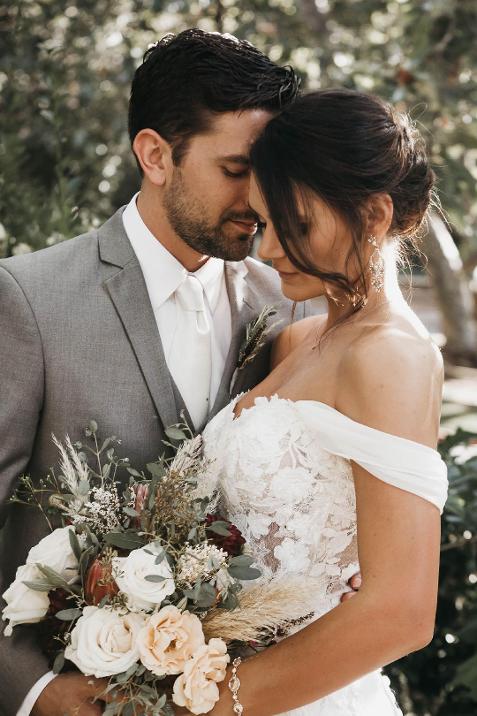 Travis and Gianna H., September 5,2019
Congrats and Best wishes!
Damigou and Kat K., July 2019
Congrats and Best wishes!
Achille Konlani, 8/1/2019 (5 Stars Google)
Thanks for dressing my hot husband love the tuxedo and excellent customer service the owners are super friendly and they make you feel like you've known them for years, definitely coming back for our next event so many options to pick from... Kat (the wife)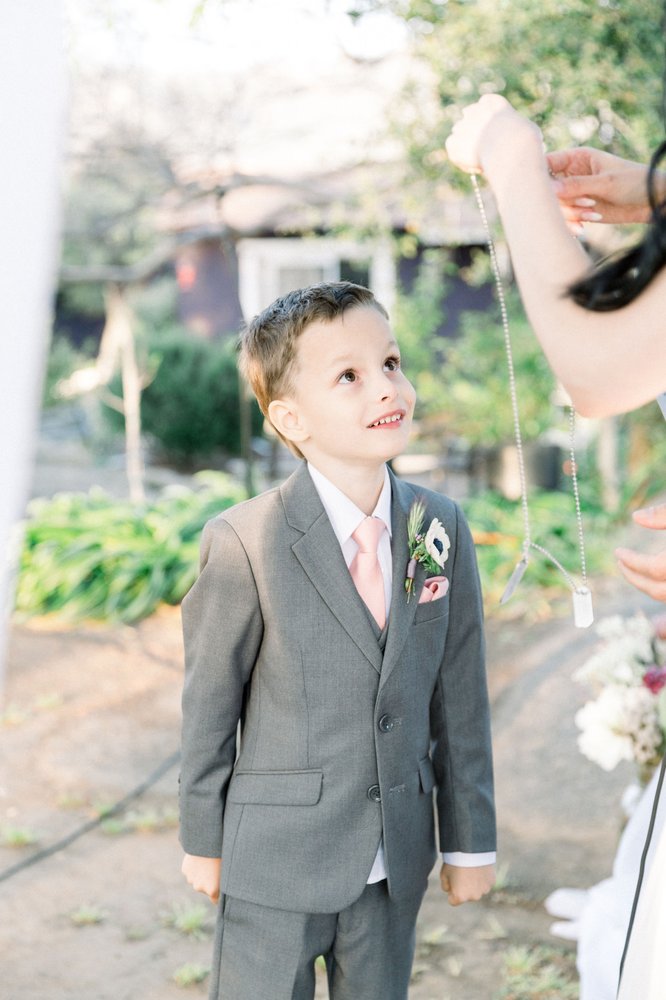 Lars, Aleksandra and son Dima S., 2019
Congrats and Best wishes!
Lars S., Temecula, CA 5/22/2019 (Yelp 5 Stars)
My wife and I are new to Temecula and were searching for suits for my son and I for my upcoming wedding to his mom. We did some searching and found Class Act Tuxedo and loved that it was family owned and operated (also as you can see they have a ton of 5 star reviews!). All 3 of us dropped in on them with the intention of renting suits, but after hearing about the cost to purchase it just seemed like too good of a deal to not add a brand new suit to my wardrobe! They were pretty busy with Prom Season but were still able to quickly assist us. I tried on a couple different suits and was able to agree on one with my wife. When it came to modifications or adjustments, Sal just knew what he was doing! Thank God, because I have no idea where the cuff of the pant should sit, or the sleeves, etc. They had a huge selection of suits and ties, vests, etc, so we were able to find our wedding colors and get me settled pretty quickly! Next step was my son. He is a tall 5 year old and we wanted him to look just like me! Easily accomplished. I cannot say enough positive things about our experience with Sal and Shae! They simply made what could be a time consuming task very easy! And I was very pleased with the cost for the suit, tie, vest, shirt, shoes, etc for my son and I! Thank you! Looking forward to buying another suit for work soon!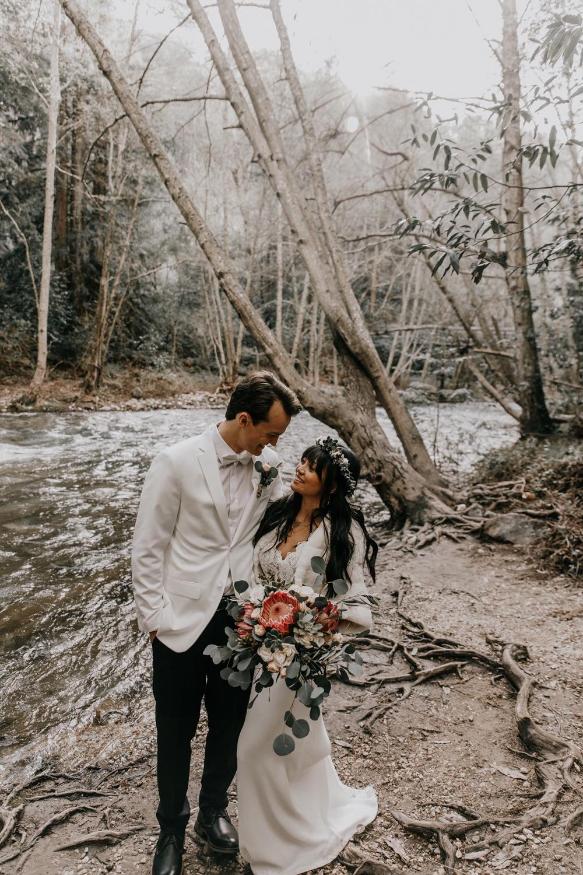 Congrats and Best wishes!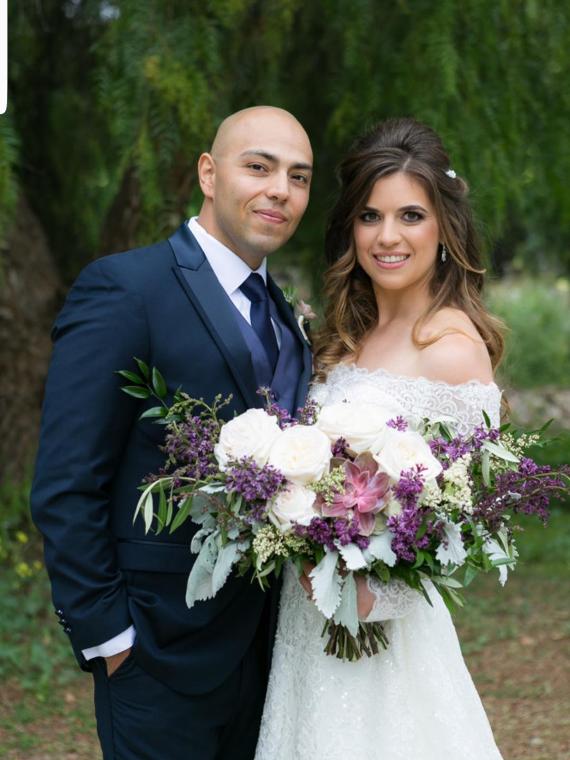 Andrew G., May 2019
Congrats and Best wishes!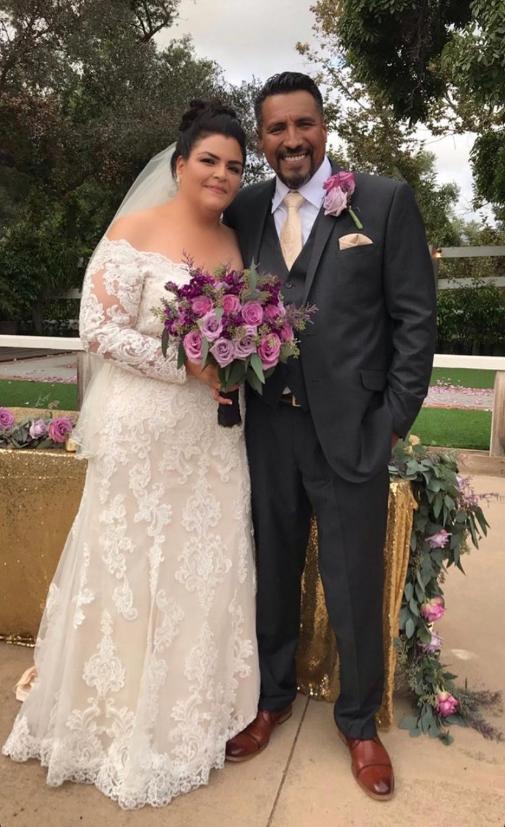 Luis and Zoila M., September 2019
Congrats and Best wishes!
Reyna P., San Marcos, CA 10/4/2019 (5 Stars Yelp)
Well, our wedding came and went!! Everything turned out perfect!! I'm so happy everything went smooth, and of course that was in big part due to Class Act tuxedo making the process sooo easy and smooth for my husband's and son's tuxedo, I would definitely come back here when ever we will have another event, I'm glad we trusted Shae and Sal, which by the way, Make you feel like family!! Thank you so much for your great service!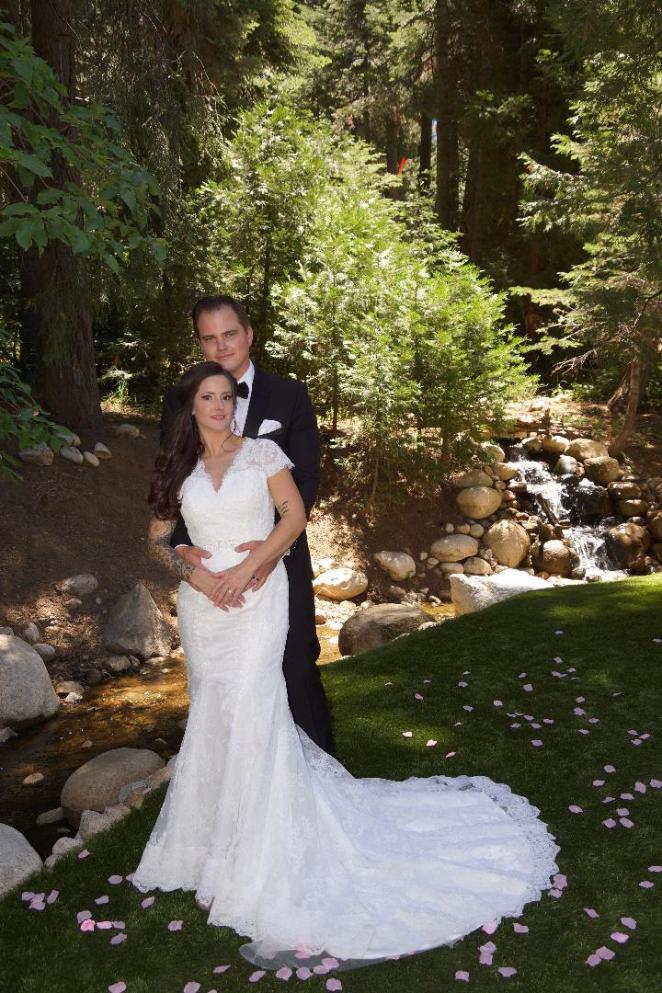 David and Krista A., July 2019
Congrats and Best wishes!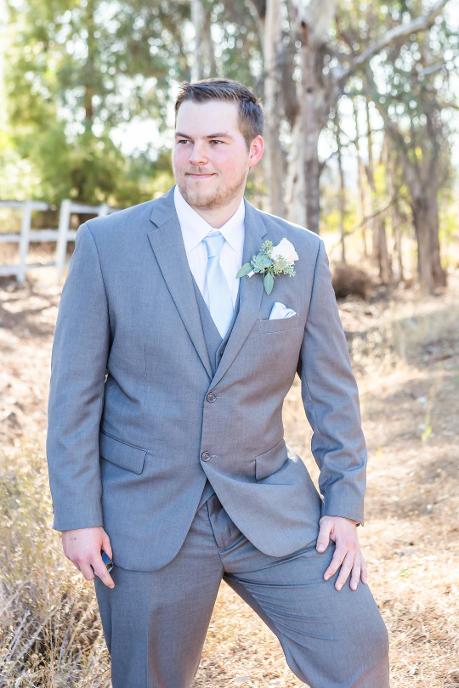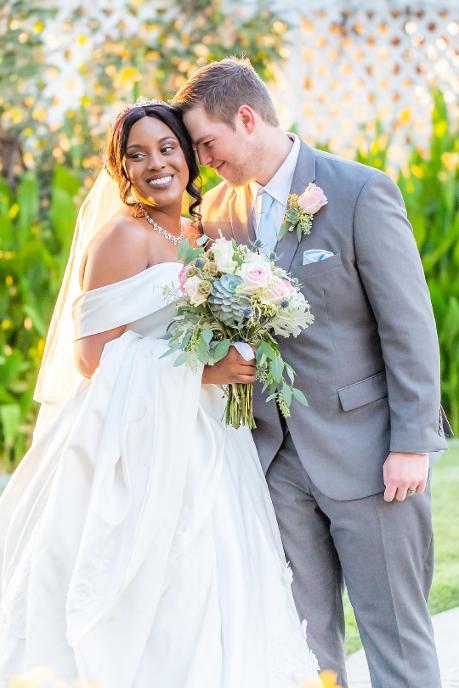 Sean and Mariah D., Oct 2019
Congrats and Best wishes!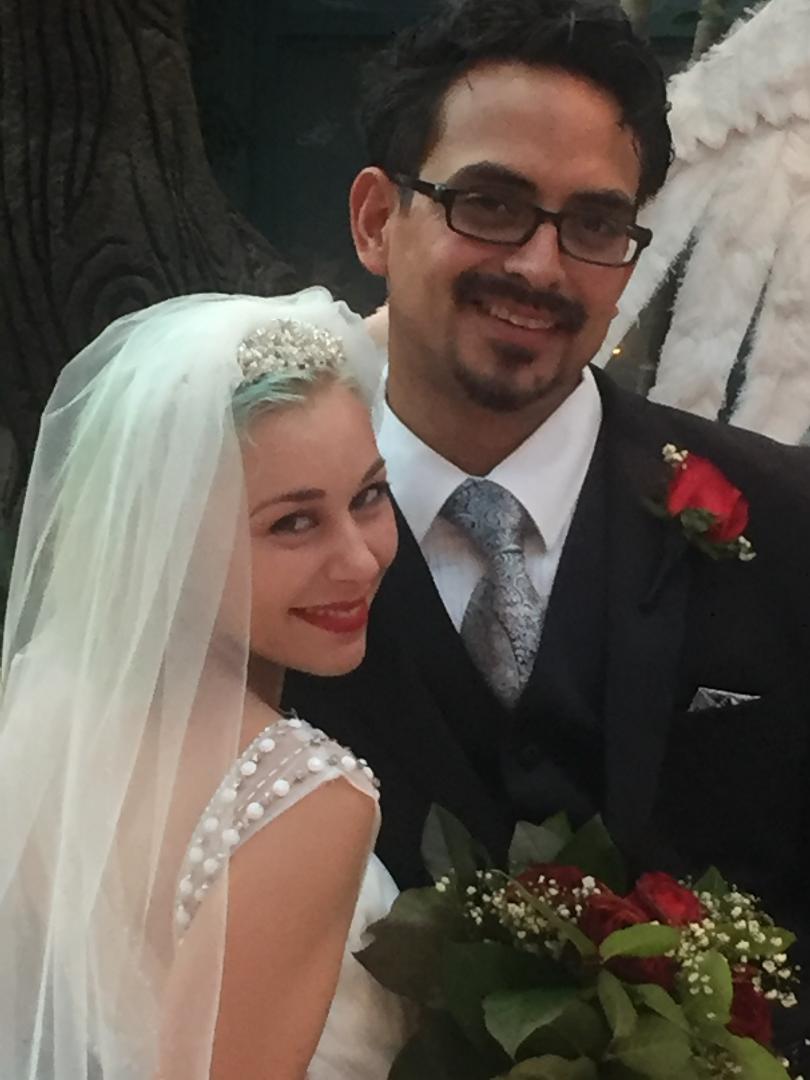 Romeo V. and Ally G., June 2019
Congrats and Best wishes!
Romeo Victor Gallego. 6/6/2019 (Google 5 Stars)
Shae and Sal are a great power couple who are very skilled I've been looking for a good tailor for a long time and am so happy to have found them. They're knowledgeable, friendly, and their prices are very reasonable. I highly recommend them.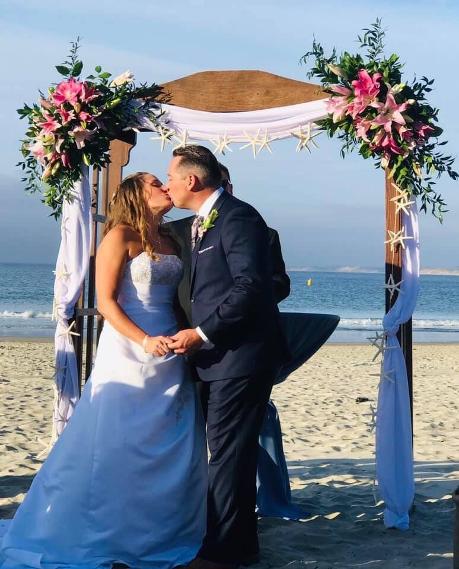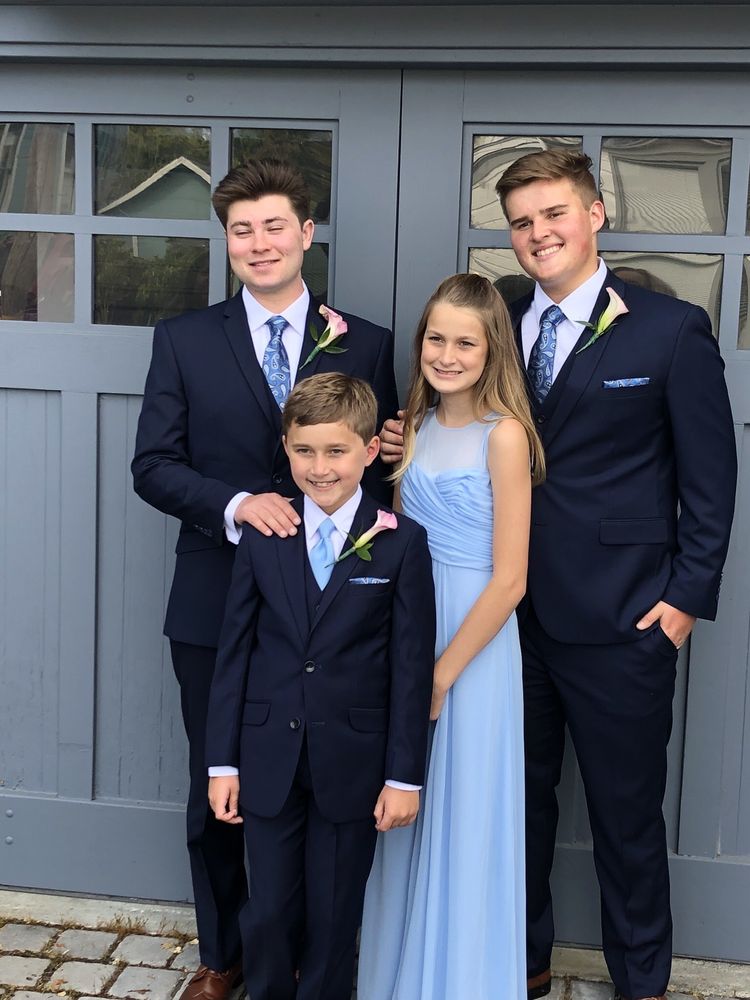 Jess and Zach H. April 2019
Congratulations and Best wishes!
Jess L., Murrieta, CA 4/29/2019 (Yelp 5 Stars)
Shay and Sal are the absolute best in the area!! They are professionals and know how to not only select the best suits, the tailoring is perfect and everything is packaged up and ready for your event. They dressed my husband, three sons, and brother in law is sharp suits with all the accessories for our wedding. I also rented a tux from them for my sons prom. Thank you so much for everything. Thanks to you, Zach and the guys looked stunning!!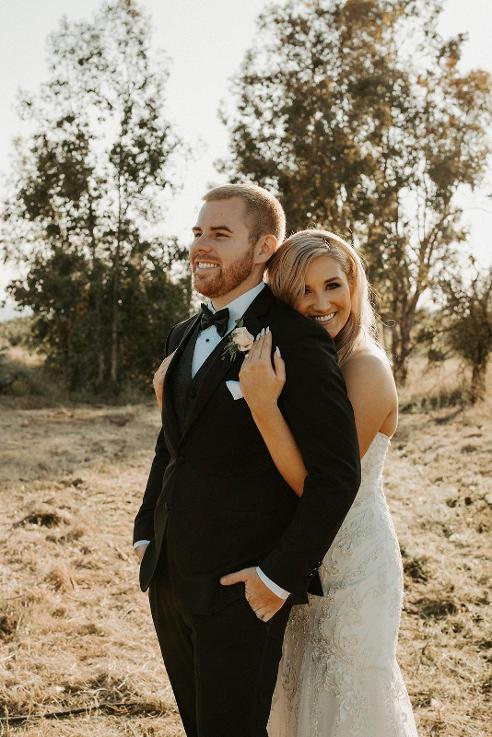 Tanner and Karen S. June 2019
Congrats and Best wishes!
Karen Poole, 8/1/2019 (5 Stars Google and Yelp)
Shae and Sal are the best! My husband and I got married on June 1st, and we rented 10 tuxedos for our wedding party. We had originally booked another vendor for the tuxes, but we made a last minute decision based on a gut feeling that the other vendor wouldn't work out. Class Act came through for us in a big way! They're friendly, affordable, and have the best options for tuxes. Shae has an eye for fashion and we enjoyed working with her. Sal was a magician when it came to the alterations/hems. They're so helpful and quick with their service. Overall, I highly recommend Class Act Tuxedo! We will be going back for all our future rentals.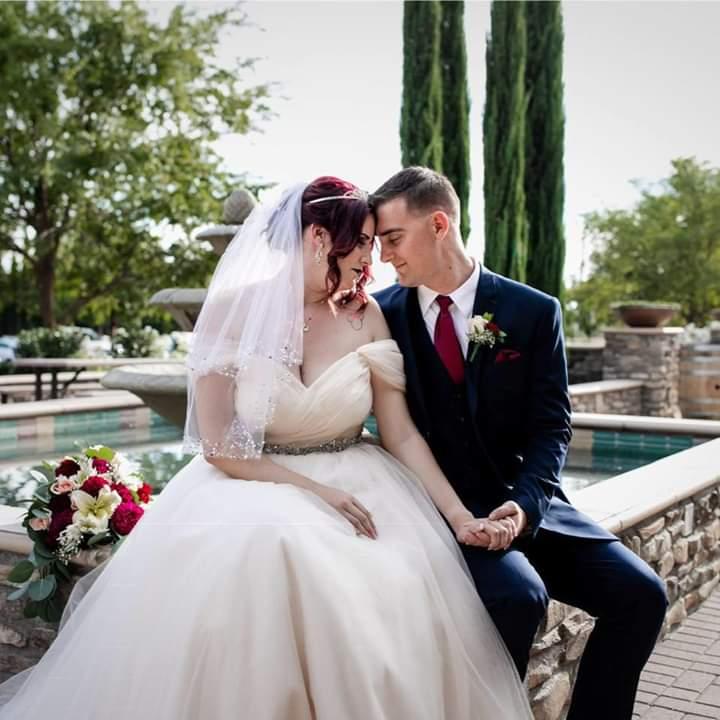 Andrew and Alyssa D., Oct 2018
Congrats and Best wishes!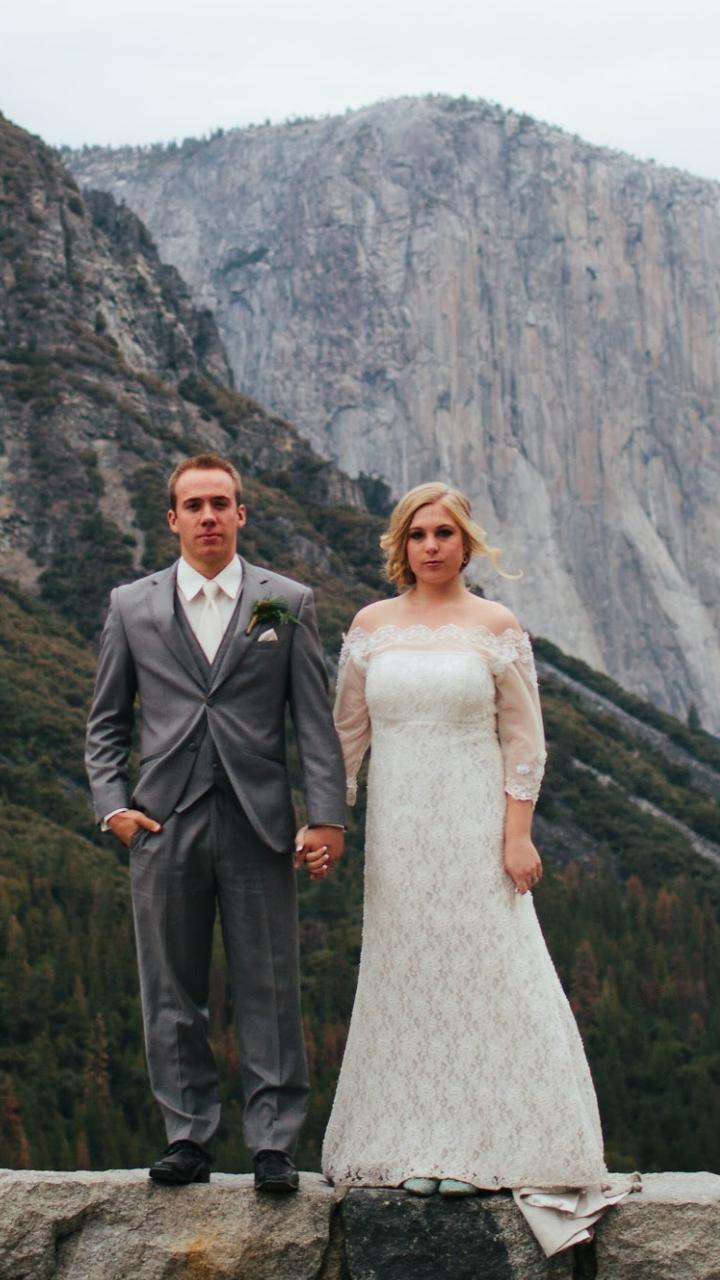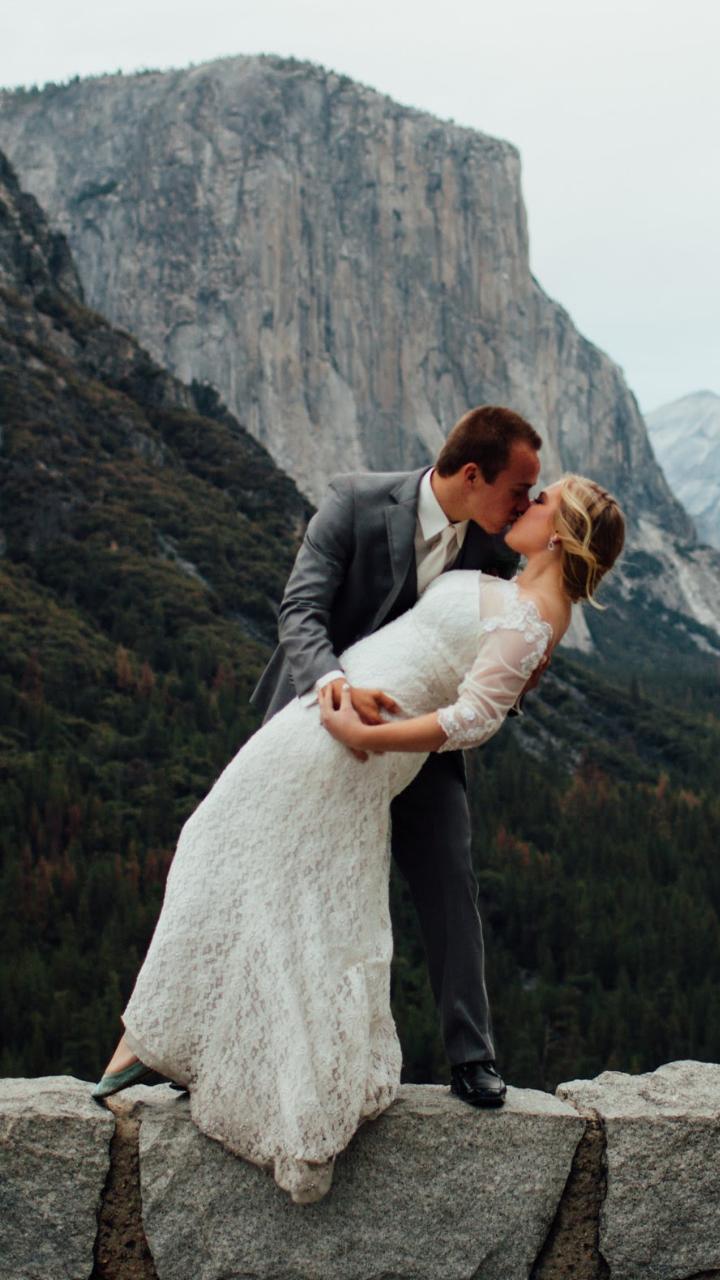 Taylor and Karissa M. September 2015
Congrats and Best wishes!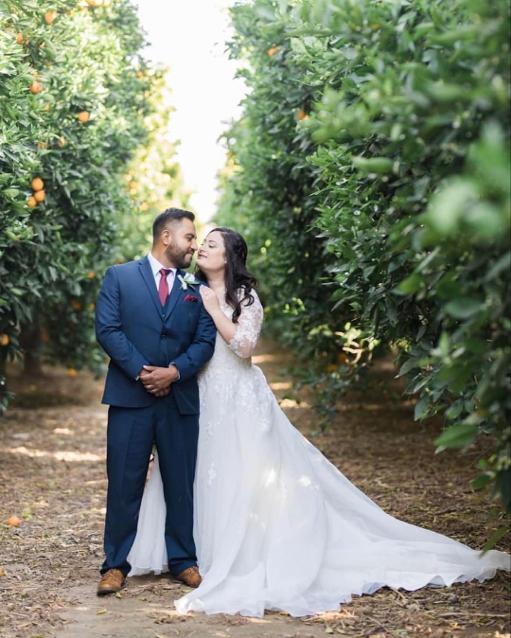 Juan and Sheri H. April 2019
Congrats and Best wishes!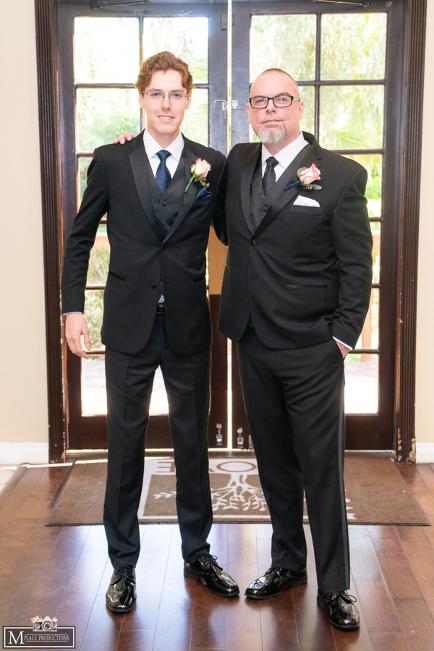 Jimmy and Blanca P., March 2019 Also pictured is James (son) with Jimmy
Congrats and Best wishes!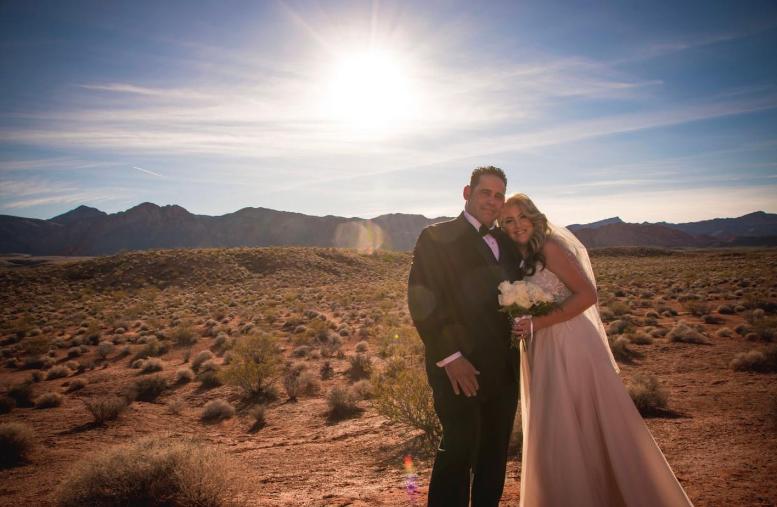 Raul and Amber Jan. 2019
Congrats and Best wishes!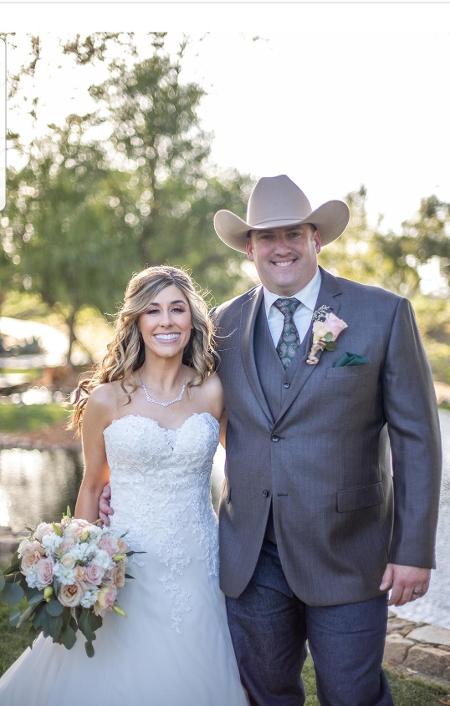 Evan and Melissa M. April 2019
Congrats and Best wishes!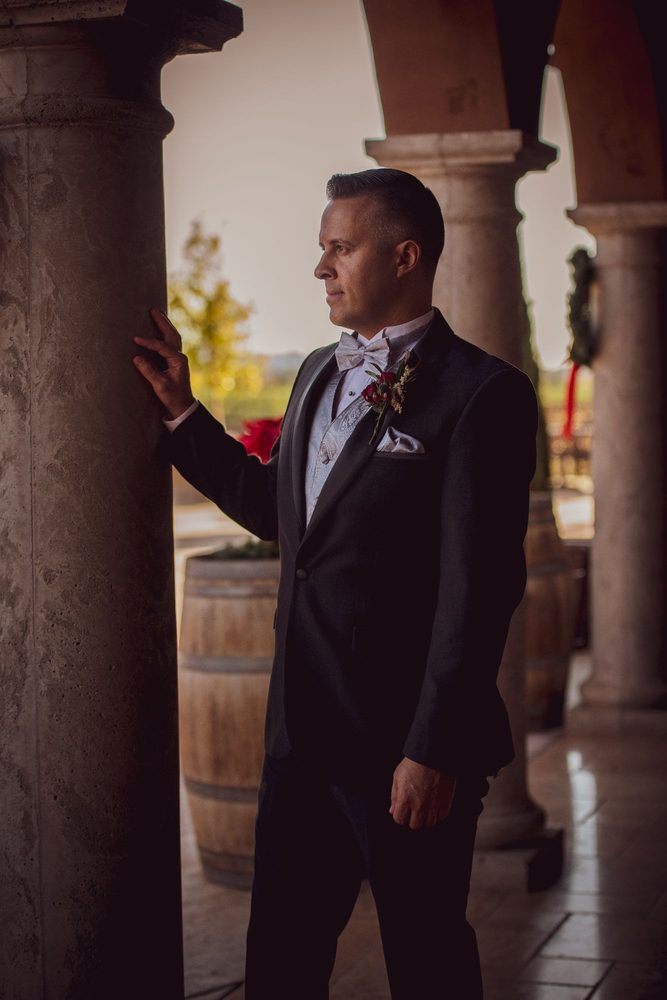 Marc L. , December 2018 - Congratulations and Best wishes!
Marc L., 3/19/2019 (5 Stars Yelp)
Where do I start? The dust has settled, and the routine of new home, new life (married life), and settling in is becoming pleasantly comfortable.
The days are passing and as my wife & I check off thank you's to all the corresponding family, friends and vendors... I realize that a very special and loud thank you is deserving of Shae & Sal, the proprietors of Class Act Tuxedo and Bridal rental.
My wedding was in December. I met with Shae & Sal in October. My brothers and father/ and in law to be all were fitted by Class Act. I had changed my mind um, let's say a few times, because of course- I wanted to look my best and I knew what I wanted. Or did I?
Shae was an absolutely perfect pillar of patience, kindness and reality. She was confident we would be looking our best, and wise enough to remind us, that time for alterations was key. GREAT so far! Everyone in the party was fitted, tailored and ready. ... and then... I went and flipped the script.
December was moving quick and before I knew it, I was 48 hours away from my wedding. I made the call and decided to scratch my original "unique" outfit and match my brothers with a classic great tux. I showed up an hour and a half before closing the DAY BEFORE my wedding, and this is what happened...
I explained to Sal, that confidence was key, and I just didn't feel I had made the right decision. THEY delivered on what I wanted, but my execution in choice was lacking good judgement. Sal helped me get sized, along with some alterations that needed to be made on the pants, ALL while assisting a few customers that had popped in while I was there. I felt horrible that all the time spent creating and ordering pieces was scratched for this new revision. Nevertheless...as Sal was putting it together - I felt confident! Beyond pleased that I was ready now for our ceremony.
I left..smiling.We stayed til close but it all got done. It was the best feeling having that fear off my shoulders. I could now focus on everything I had to do with confidence!
Now, the most important thing most grooms should realize is that number 1... no matter how good WE want to look...ANY wedding is an "all-eyes-on-HER" event, and that's the way it should be....but I can honestly tell you...that as I've settled in and started the fun process of placing new picture frames within our home of family, children and our wedding, - I look at us and reminisce on how wonderful and absolutely BEAUTIFUL that day was.
I zone out for a minute and relive it again for a bit. The pictures we have will last us our lifetime, and when I'm old and gray, shuffling around my house - I know that I'll look up at my wall and see a memory that will bring tears to my eyes. My family, my wife and I all look beautiful...and it's only fitting that Shae & Sal be forever thanked and commended for solidifying such a memory and favor that I can never repay.
Thank you so very very much Shae & Sal. You both were beyond my vocabulary of amazing and I will forever refer future clients to you both, as well as praise your efforts and hard work. I highly advise everyone to visit you and allow you to tailor a thread of magic in the fabric of their lives.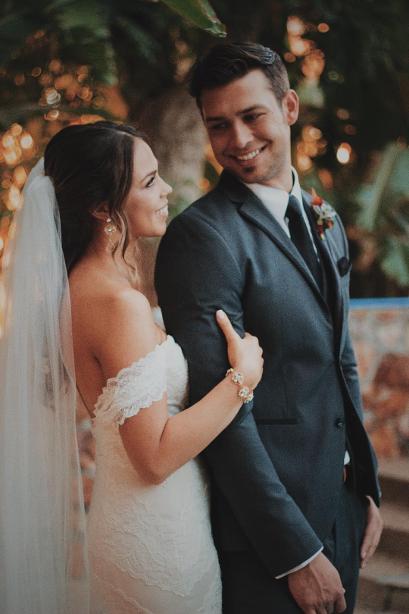 Cody and Sarah S., Nov 2018
Congrats and Best wishes!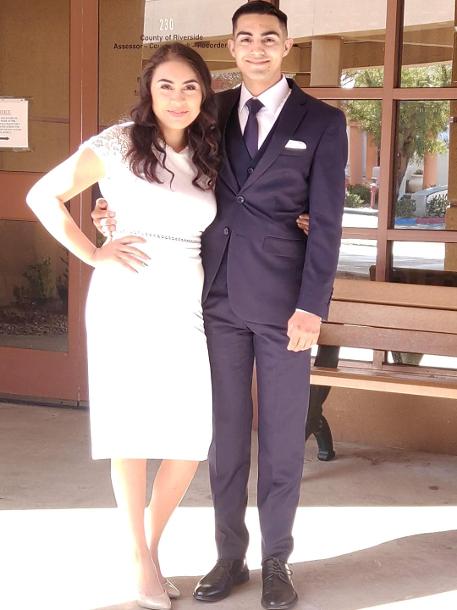 Miguel and Marlene A., 3/15/2019 - Congrats and Best Wishes!!
Miguel Anaya, 3/18/2019, (5 Stars Google)
I have gone to Shae and Sal's tuxedo shop for two occasions and they do not disappoint, they have a great selection of suits and tuxedos and they always get my size perfectly. I highly recommend going to their shop and the owners (Shae and Sal) are great people as well.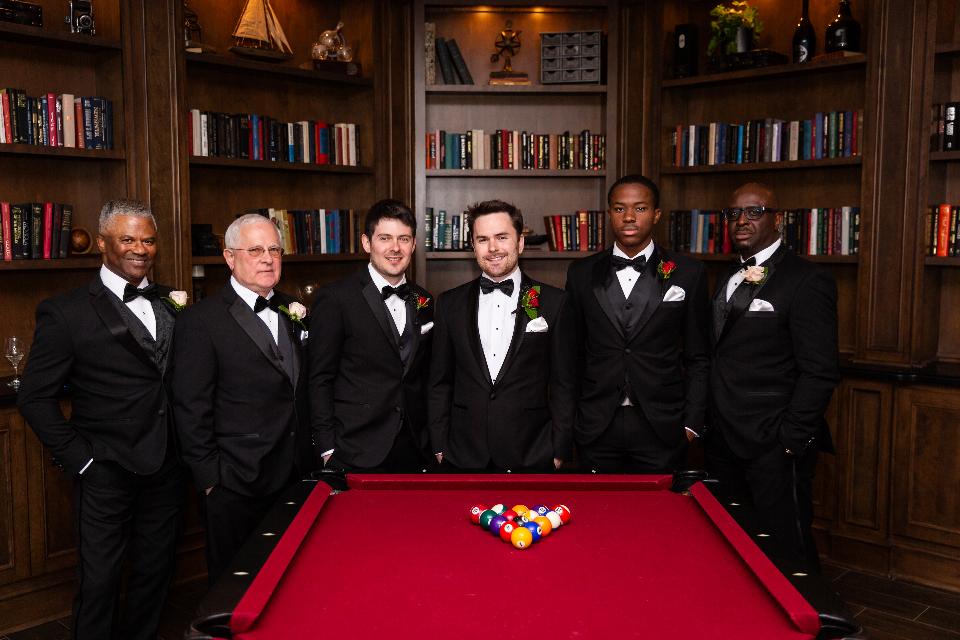 The Groom and his wedding party 2018':
Pictured left to right - Bo W., Barry S., Kieran S., Jonathan S. (the Groom), Elijah R., and James R.
Thanks for the cool photo! Congrats and Best wishes!
★★★★★
Google Review from James R. -
Shae and Sal's customer service was, by far, the best I've had in recent years of any business in any industry. They were absolutely phenomenal! My daughter's wedding was 2 days ago, Nov 12th. Since her husband and his family lives in the UK several tuxedos had to be ordered by email using only their measurements. The fittings were done upon their arrival. The entire process was absolutely flawless. Each tuxedo was modern and tailored to to each person's exact fit. Class Act Tuxedo will be my tuxedo retailer for life!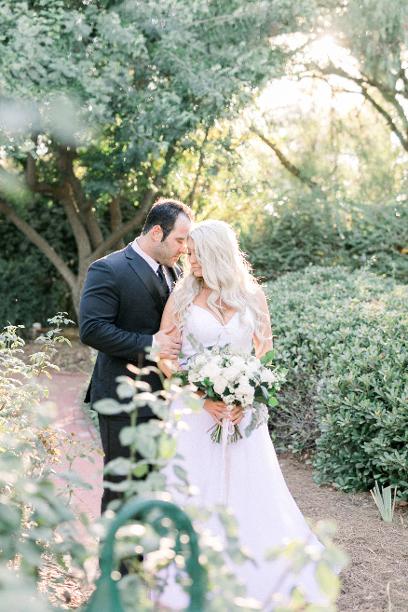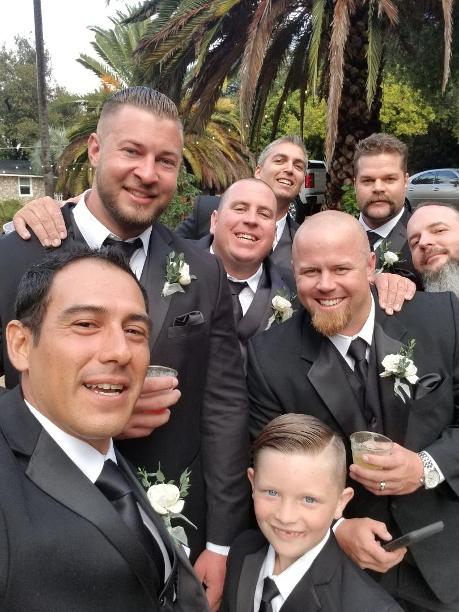 Matt and Sarah Scott, Oct 23, 2018 (Photographer Carrie McGuire)
Congratulations and Best Wishes!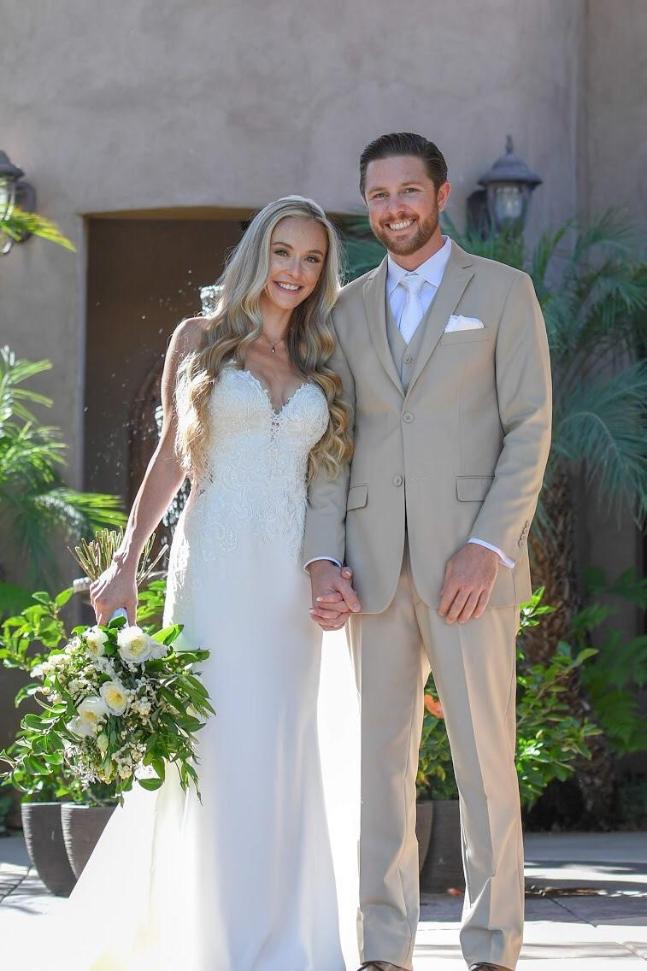 Jonny and Tamzen, Oct. 2018
Congrats and Best Wishes!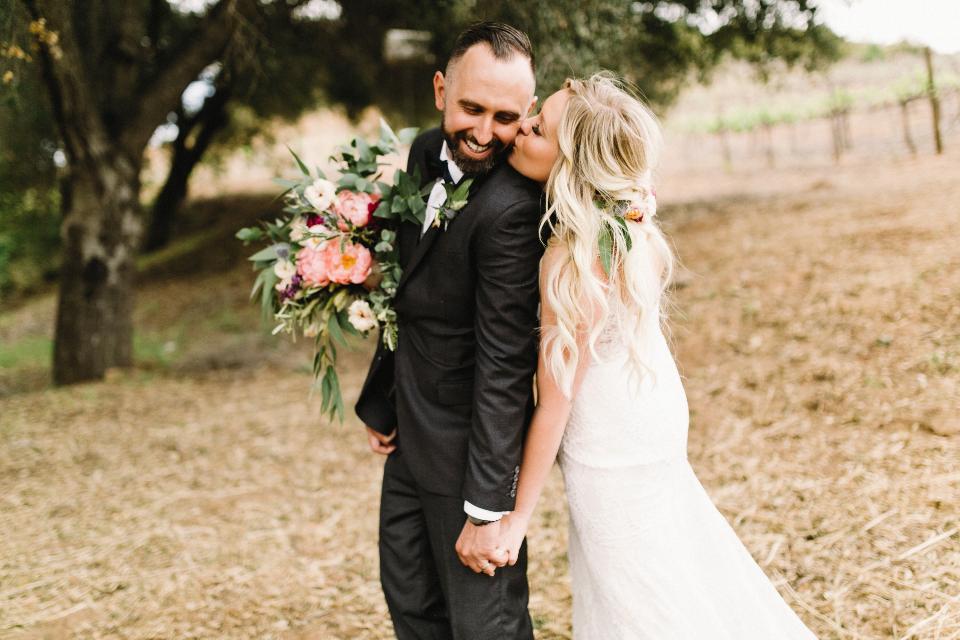 Jordan and Briana D. 4/21/2018 Congratulations and Best Wishes!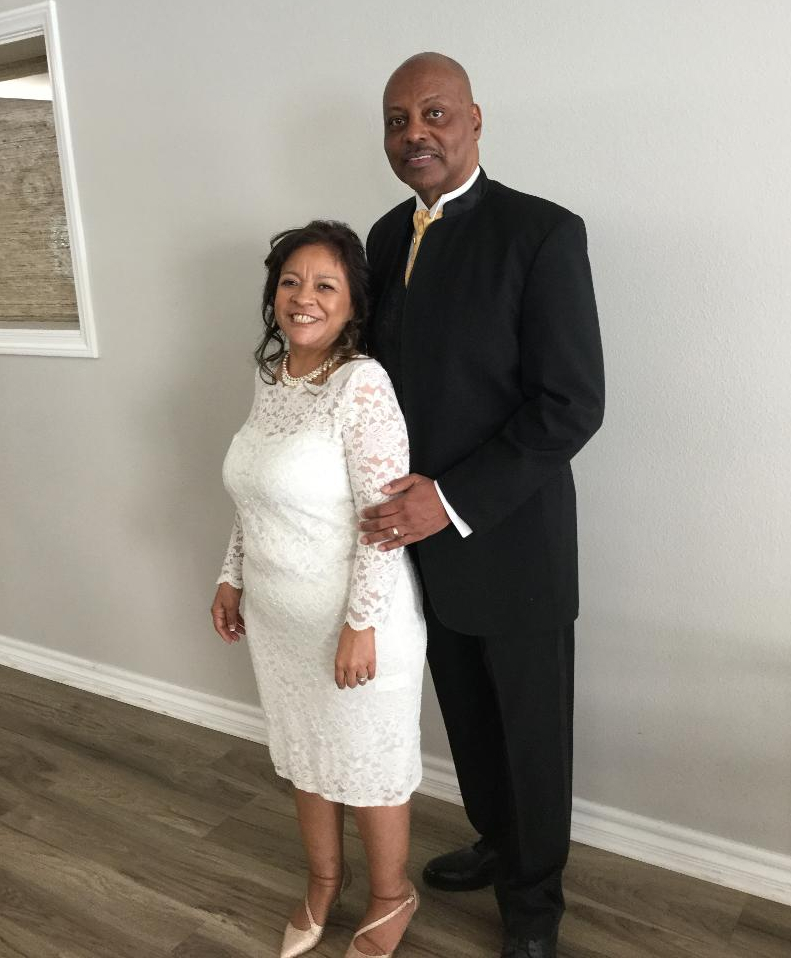 Donald and Alma T. 11/10/2018 Congratulations and Best Wishes!
Message from Don and Alma via e-mail -
Alma and I were looking for things for our wedding while walking in the shopping area and saw a beautiful display of tuxedos. I said "this place has a sharp display and I want that Mirage tuxedo."
My call to Sal was very pleasant and he gave me a fantastic deal. Two weeks later he remembered me and the deal for the rental. I received an email from Shae and a call to set up my appointment. Little did I know that she and Sal are a husband and wife team.
They are so friendly, very professional and completed my fitting in a few minutes. She made me feel like family and when I left it was the best deal ever for a tux rental. I will recommend this business to all of my friends. Thank you Sal and Shae for blessing me with the hook up for my November 10, 2018 wedding. God's blessings upon your life. Donald and Alma Angelina Turner.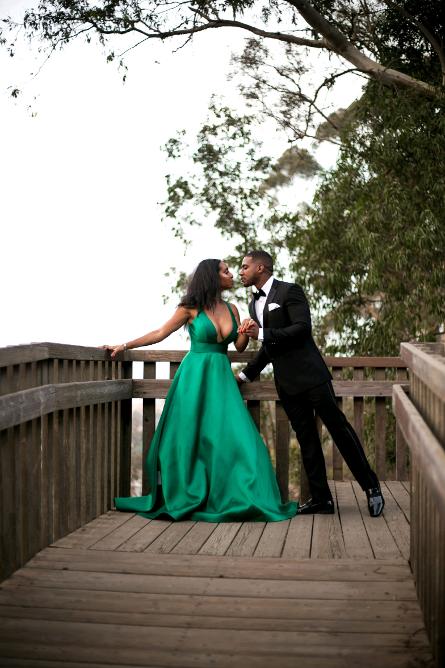 Allen and Kristian M. 2018 Congratulations and Best Wishes!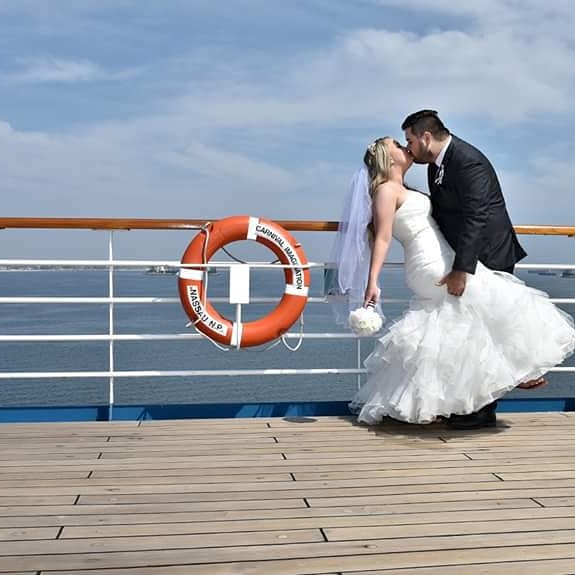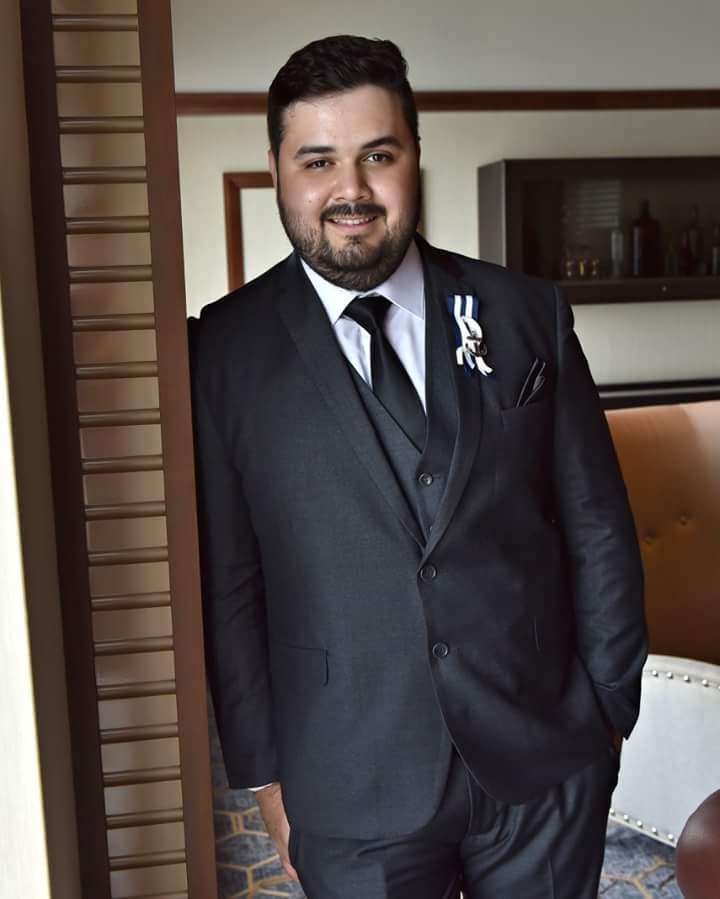 David and Melissa T. 2018 Congratulations & Best wishes!
★★★★★
Melissa T., 4/12/2018 (5 Stars Google)
Shae and Sal provide the most amazing customer service. They remember your name and are genuinely interested in your life. We recently got suits from them for our wedding and the experience was so easy. I would definitely recommend them to anyone looking to rent or buy because their suits are top quality and their customer service was even better!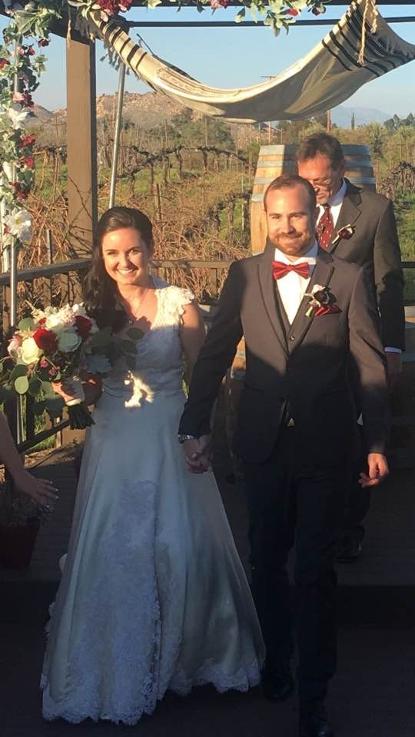 Aaron and Ashley C. 2018 Congratulations & Best wishes!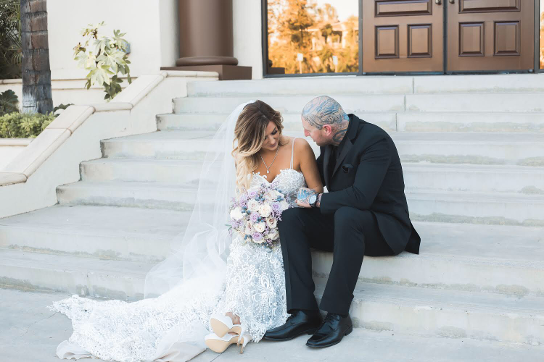 Chad and Cayti L. 2017' Congratulations & Best wishes!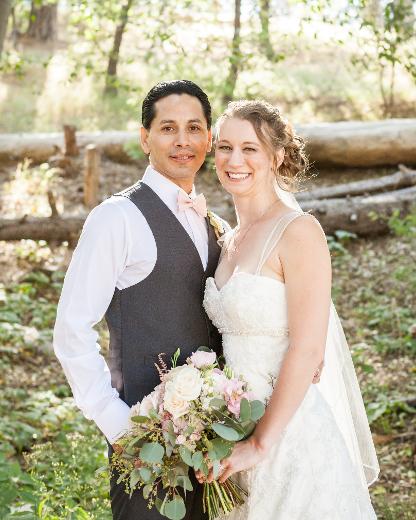 Jose and Alyssa C. 2017' Congratulations and Best wishes!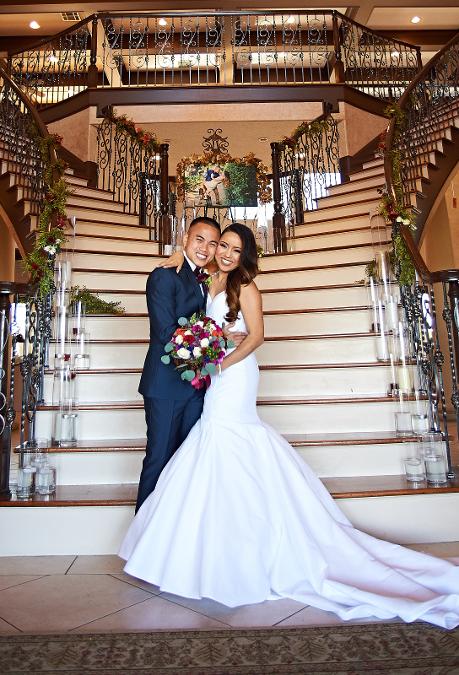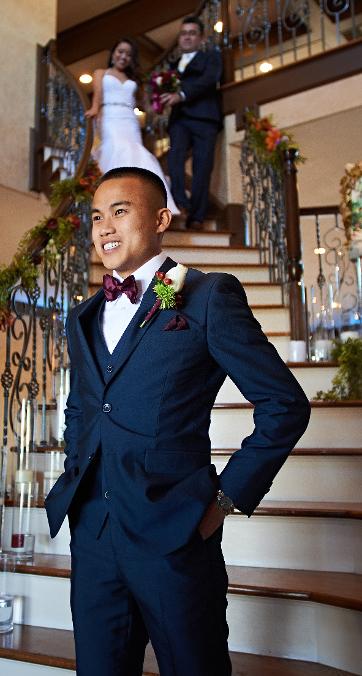 Vu and Estefania P. 2016 - Congratulations!! Vu and Estefania came to us with a particular suit look, fit and color in mind for their Special Day. Having a slim athletic build, our in house tailor (Sal) was able to customize Vu's suit to detail. Vu is wearing a slim fit - tailored three piece Middle Blue Suit, slim fit white shirt, and burgundy accessories. Please check out their video -
https://vimeo.com/195943383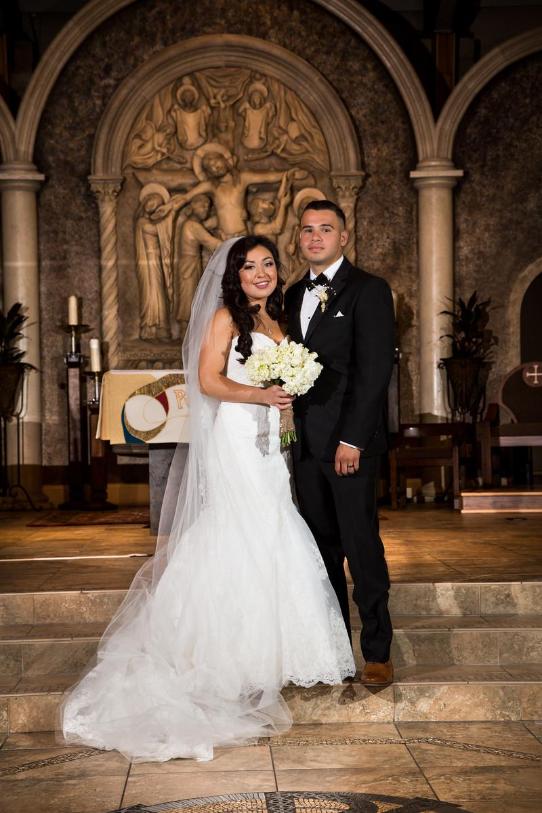 Ricardo and Karina H. May 2016
Congratulations and Best wishes!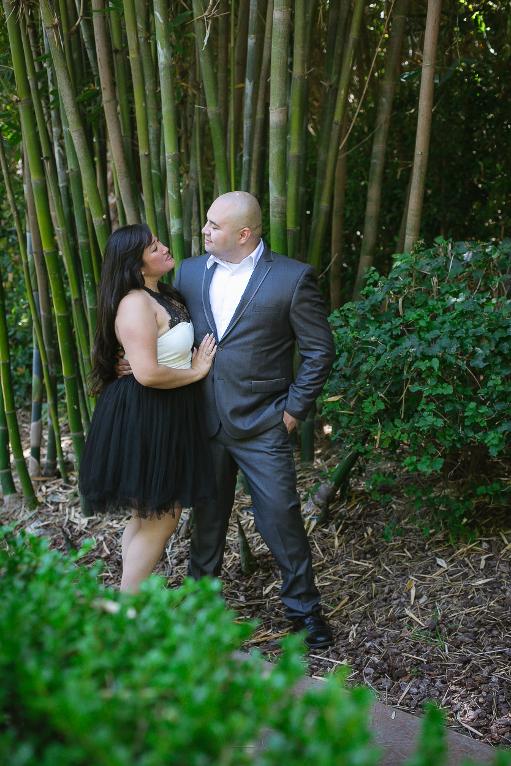 Ivan and Michelle J. , May 2016
Congrats and Best Wishes!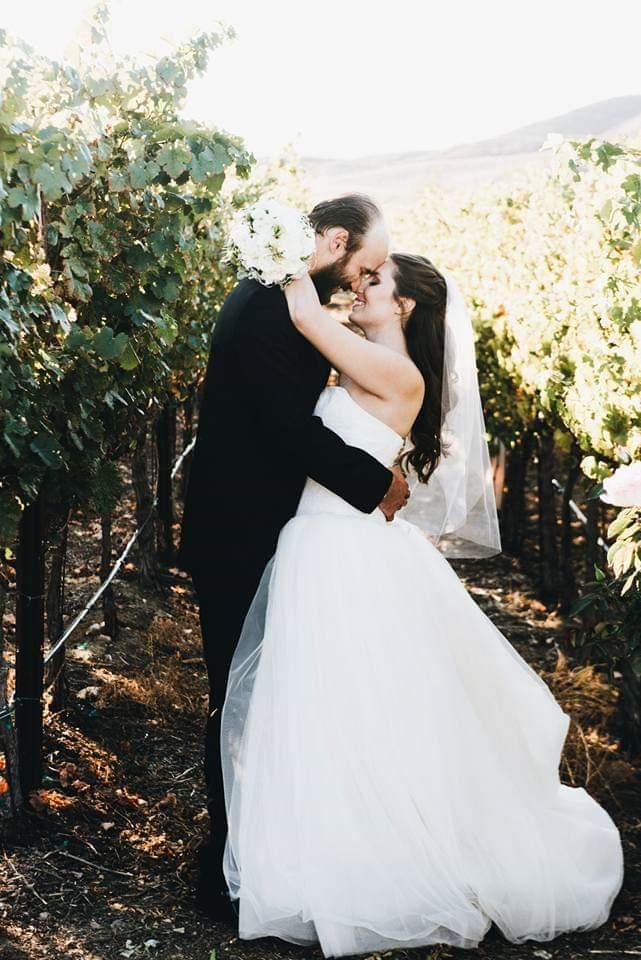 Michael and Amanda D. Nov. 2015
Congrats and Best Wishes!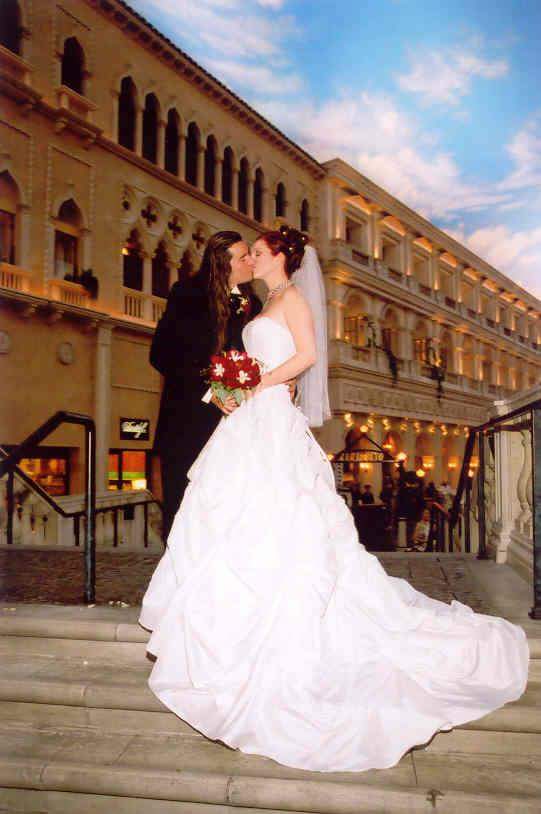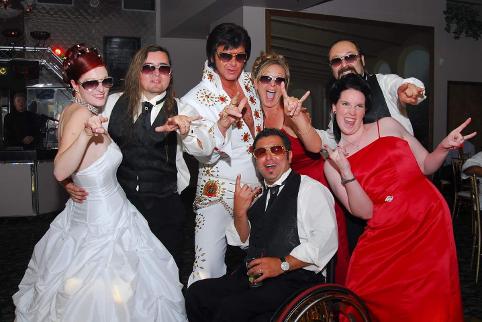 Carlos and Sietske M. June 6, 2006. We had the pleasure of suiting up Carlos and his wedding party 11 years ago. They were married at the Venetian Hotel in Las Vegas on Ponte Brdige. Thanks for the photos and we wish you many more years of martial bliss. Best wishes!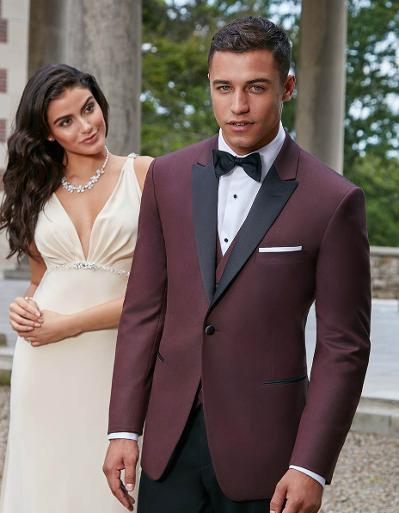 Burgundy and Black peak lapel tuxedo jacket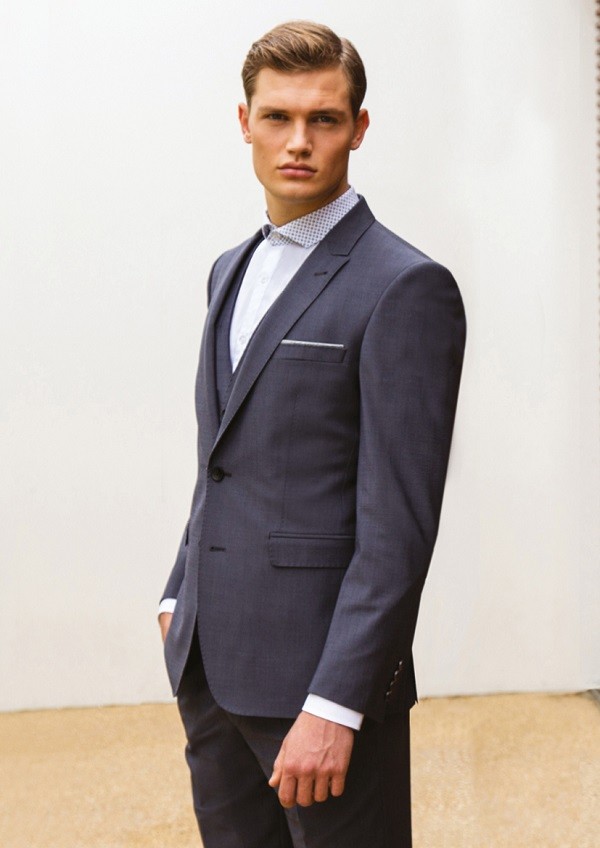 Classic Blue peak lapel Suit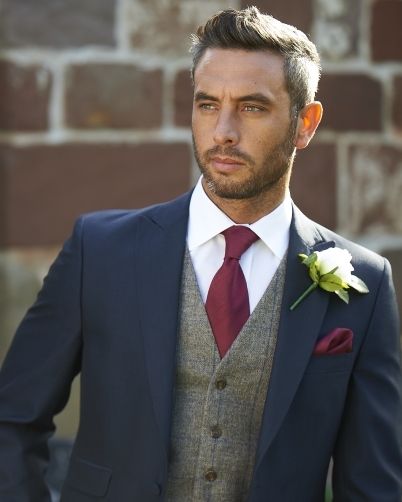 Make a statement- The latest trend in groom attire is stepping away from uniformity and mixing it up with colors, patterns and textures. As pictured, the groom is wearing a blue peak lapel jacket, contrasting tweed vest, crisp white shirt, burgundy tie and matching pocket square. This look has a classic and fashion forward appeal.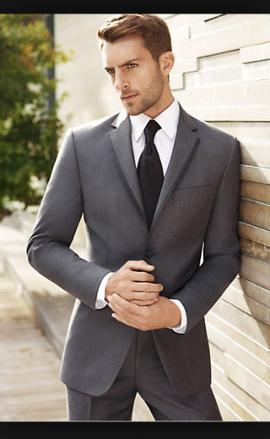 Charcoal grey suit or tuxedo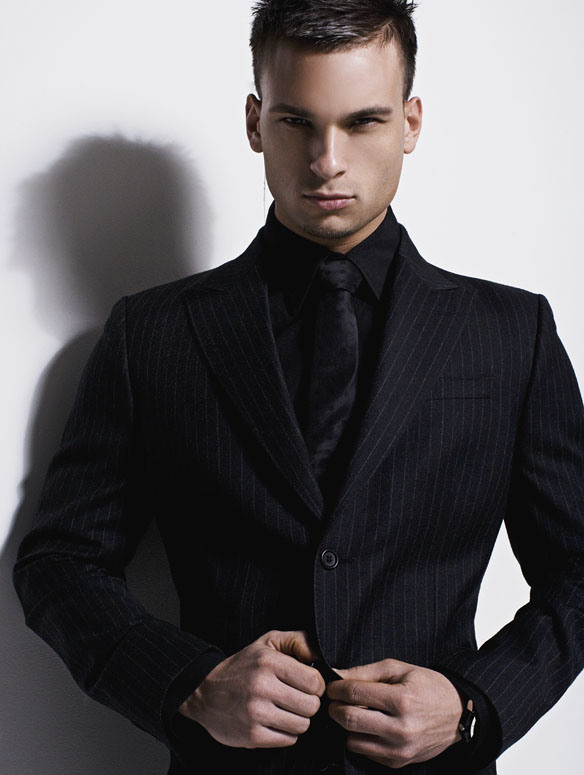 Pinstripe peak lapel suit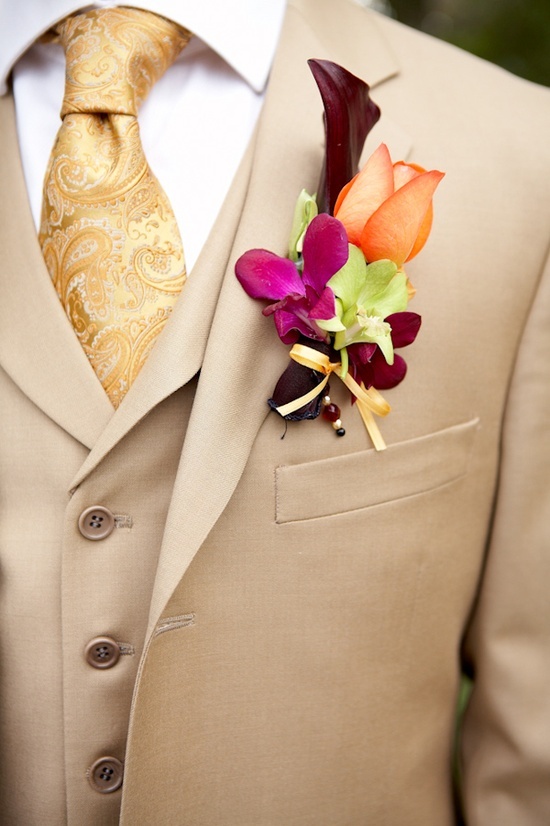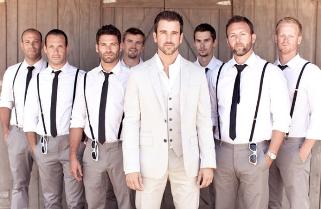 "An idea" - Groom in jacket and groomsmen in suspenders (suspenders available in a variety of colors)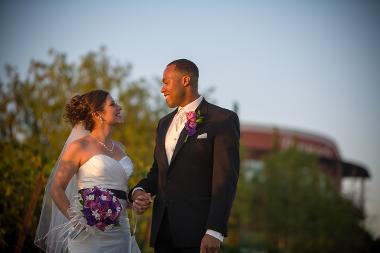 Spencer B. and Marie W. Spencer is wearing a 2 button notch lapel Nuvo Tuxedo. Congratulations!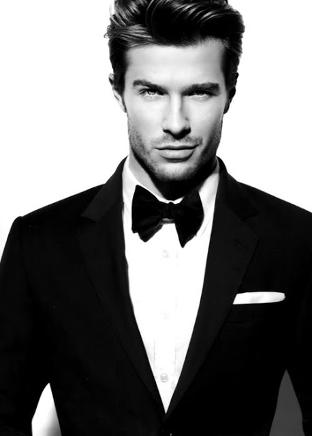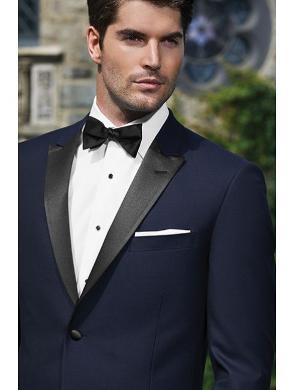 Navy Tuxedo with black peak lapel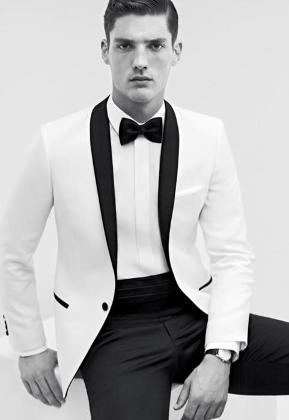 White and black shawl lapel tuxedo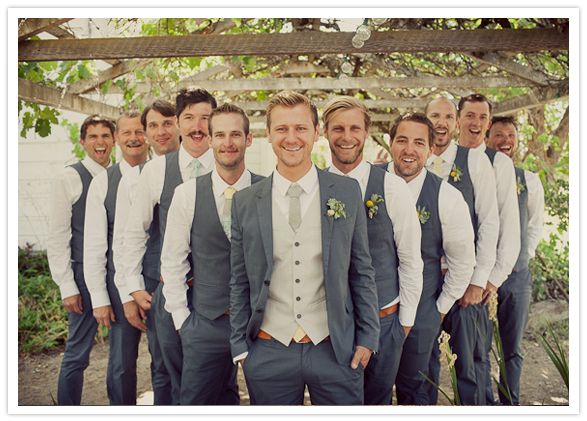 "An Idea"- Groom in jacket and groomsmen in vest.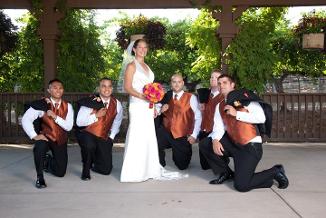 "I was planning my wedding from across the country and they were so incredibly helpful and friendly! I couldn't find my color for the guys vests anywhere, but Shae special ordered my color. I was a little nervous because I heard one bad review from someone...but then I found out that they complained about things fitting when they did not go in for a final fitting. My dad lost a ton of weight for the wedding and they were ready for him just days before! The customer service alone makes them a cut above the rest....but when Shae told me with absolute certainty that she would take care of this AND I would love it....I knew I called the right place. They did not let me down! No shoes fell apart, no hems undone, no pants falling off. The prices are great and the service is even better! Thanks you!"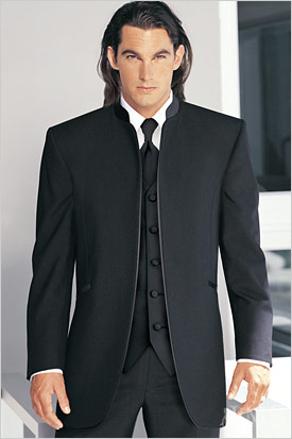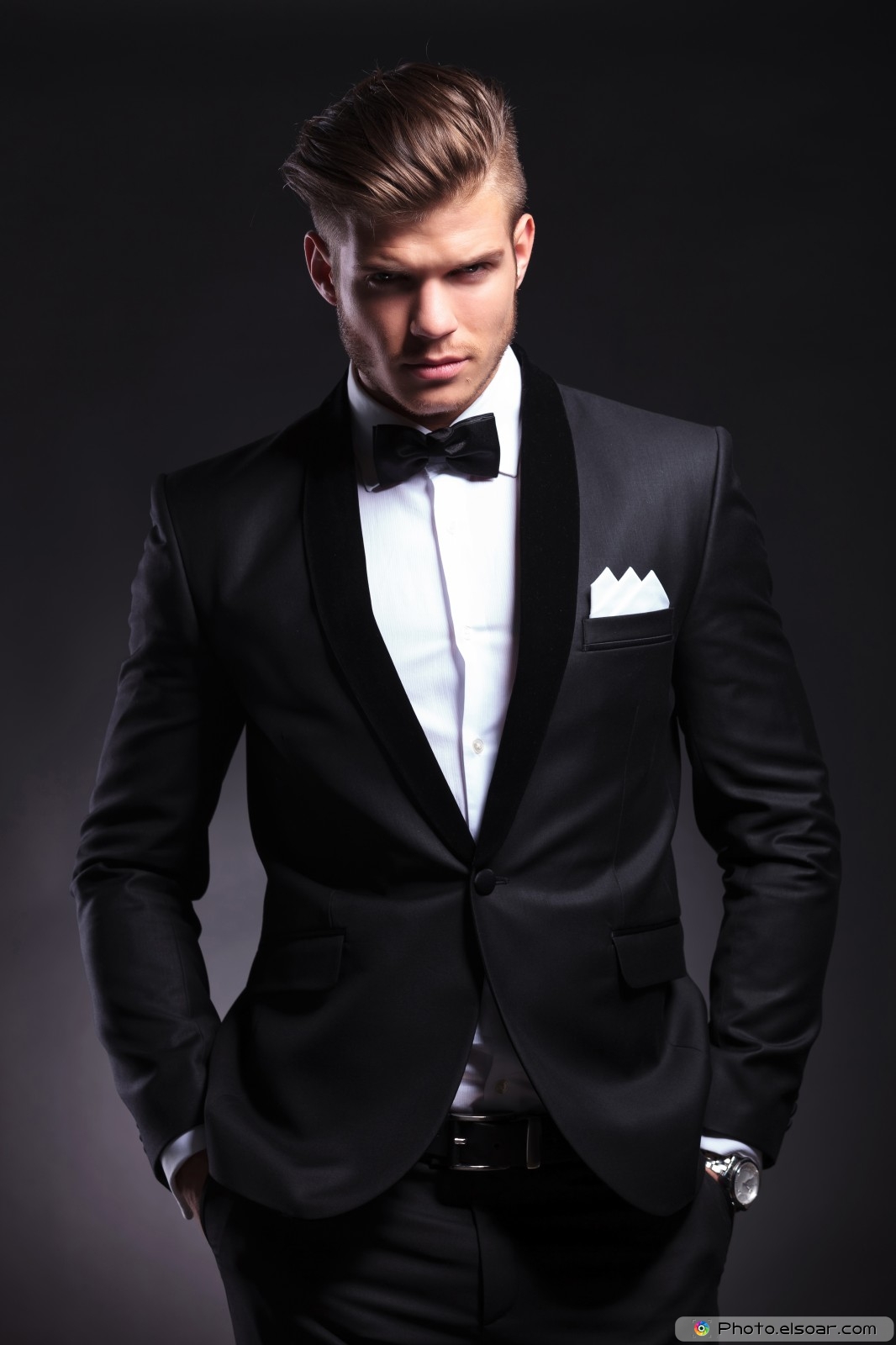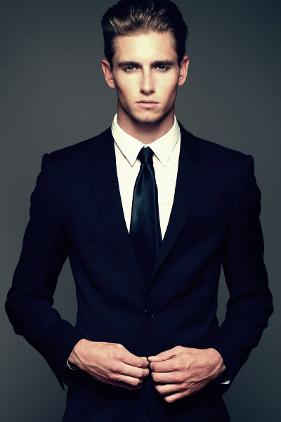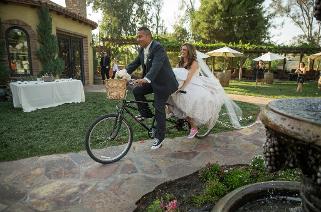 Juan and Amy married on July 4th 2013. The two road into their reception on their tandem bicycle! Juan is wearing a charcoal 2 button notch lapel suit.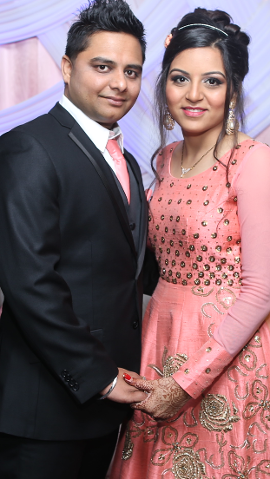 Anuj and Pooja P. 2016. Anuj is wearing a black sharkskin tuxedo with trim. Congratulations!