CONGRATULATIONS SHAE & SAL! Shae & Sal, owners of Class Act Tuxedo, are delighted to announce the release of their two books "The Suit As Lifestyle: Self-Image, Etiquette & Manners" a Gentleman's guide to refinement, and " The Suit As Lifestyle: Best suit for the Occasion." These books offer insight on how and when to wear a suit or tuxedo, etiquette and manners, and coordinating your look to suit your lifestyle. Great books to add to your library or gift someone. Books are available through Class Act Tuxedo (classacttuxedo1@aol.com, London Publishing & Company (londonpubco@aol.com, and Amazon.com Cover photo- Kyle Saenz ( Class Act Tuxedo Model/ Photographer - Annette Thomsen Saenz)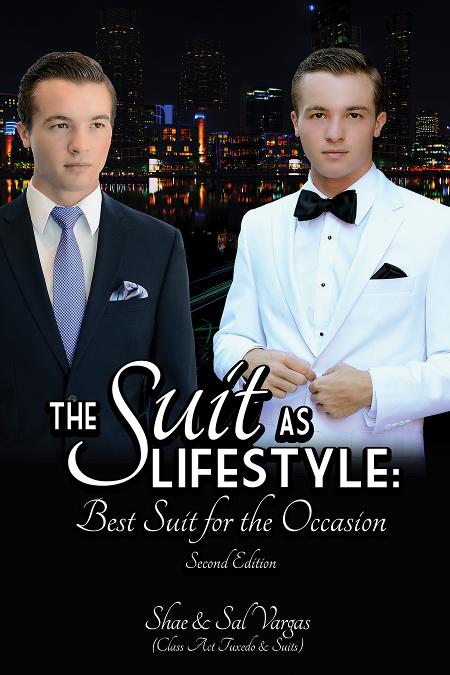 "The Suit as Lifestyle (Best Suit for the Occasion)" 2015 $19.99
Amazon.com, or London Publishing & Company. Proceeds benefit Class Act Tuxedo's scholarship programs.
This book is cataloged at the following libraries and Fashion institutes: Fashion Institute of Technology Library (New York, NY), Irvine Valley College, Kent State University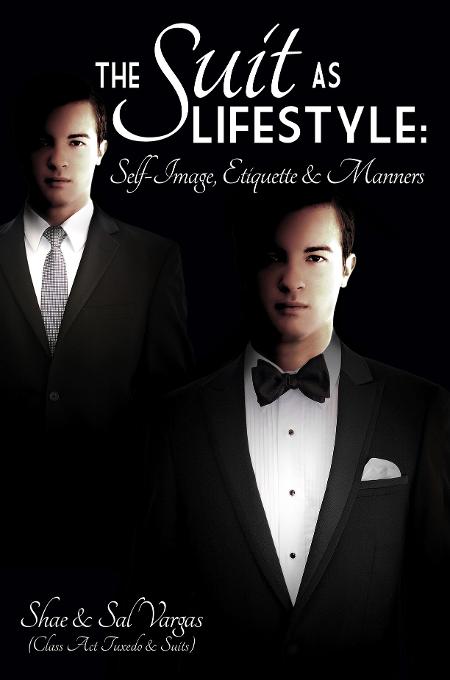 "The Suit As Lifestyle: Self-Image, Etiquette & Manners" 2014 is a Gentleman's guide to refinement. $15.99
Amazon.com, or London Publishing & Company. Proceeds benefit Class Act Tuxedo's scholarship programs.
This book is cataloged at the following university and fashion institute libraries: Stanford University, Fashion Institute of Technology Library (New York, NY), Kent State University, Irvine Valley College, Concordia University (CU Irvine)
A Guide for Planning the Perfect Wedding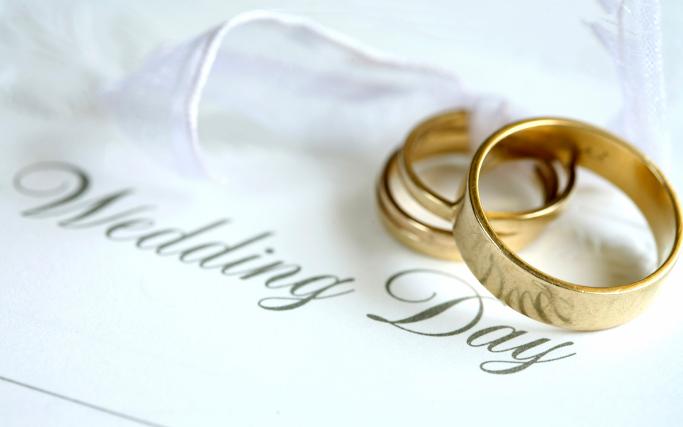 The tabletop is piled high with bridal books and there's a beautiful ring on your finger...it's time to start planning your wedding. The average cost for a wedding today is anywhere from $30,000 to $40,000.00 However, to have a spectacular and elegant wedding you can spend $5,000. You ask how can this be possible? It's all about setting priorities and getting involved. Every aspect of your wedding comes with a cost. The gown, rings, ceremony, reception, photos, flowers, accommodations, invitations, and the honeymoon.
A wedding is not about keeping up appearances or putting on a show, it is about creating a fantastic memory to last a lifetime. Throughout the process of planning up to your very big day, be gracious, grateful, breathe, smile, and enjoy. After all, you are getting married! Congratulations!
For complete article and author information contact London publishing & Company: Londonpubandco@aol.com; www.Londonpublishingcompany.com
London Publishing & Company reserves all rights, including the right in whole or in part in any form
Marriage: Beyond "I Do"
(Article featured in "Organizing a Life's Work: Finding Your Dream Job (A compilation of Works) 2013
Despite the high divorce rate, co-habitation, and unwed parenthood, marriage remains a core value and aspiration for many Americans.
Marriage is an institution which represents love, commitment, devotion, truth, values, religious beliefs, friendships and happiness that is shared with a soul mate that should be regarded as sacred and necessary.
Marriage is more than the romantic idea of exclusively loving and being loved by another, it is a platform for learning how to effectively communicate, resolve conflict, work as a team, and trust. Effective communication allows you to see the family picture clearly. How you communicate is a sign of how you relate to one another.
Ways to effectively communicate
During conversations, don't dominate by talking an issue to death, and by pointing blame. Allow your spouse time to get what you're saying and to appropriately respond without feeling pressured. You have two ears and one mouth, so listen more than you talk.
Take ownership of your actions and feelings. When you communicate don't place blame be responsible. Select one issue at a time to dissect along with an appropriate place and time. All should benefit from every conversation.
Don't be on the defensive – it's not always about you. Your spouse and children are just as important and deserve to be understood.
Build self –esteem and confidence through praise and compliments.
Always come to an agreement. Marriage is a win-win situation, after all each person is a little wrong and right.
Promise each other you won't be rude, sarcastic, or critical during conversations.
No matter how upset you get by all means avoid saying the "D" word: Divorce. Blurting out 'I want a divorce" is simply saying this relationship is not worth my time and effort. Such words can be very hurtful and can create a wedge between you and your spouse.
Having a successful marriage, years based on working through life with love and devotion, will set the example for your children to follow as they enter into adulthood and plan a marriage of their own. Through the act of Marriage you and your spouse make a commitment to live a better life, and to bring out the best in one another.
For complete article and author information contact London publishing & Company: Londonpubandco@aol.com; www.Londonpublishingcompany.com
London Publishing & Company reserves all rights, including the right in whole or in part in any form - Marriage: Beyond "I Do" (2013) Article featured in "Organizing a Life's Work: Finding Your Dream Job (A compilation of works), 2013